News
Marjorie Taylor Greene Claims Fauci Is Entirely 'Responsible' for the Pandemic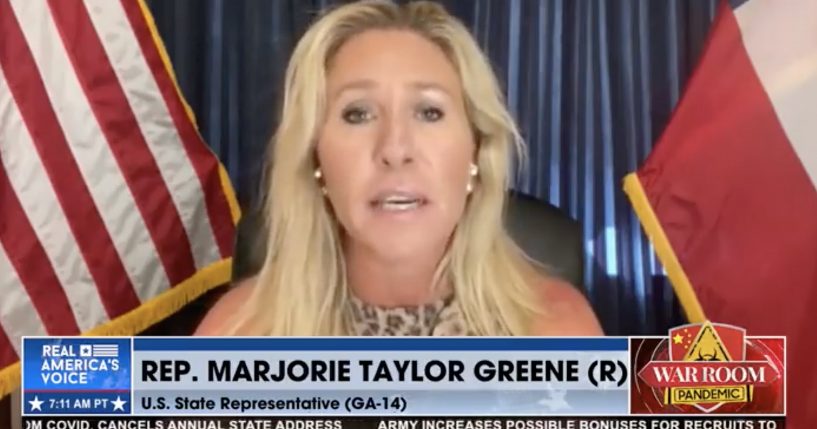 Rep. Majorie Taylor Greene (R-Ga.) blasted Dr. Anthony Fauci, saying he is entirely to blame for the COVID-19 pandemic.
During an episode of former senior Trump adviser Steve Bannon's podcast, Greene explained, "We have so many serious problems and we can point them all at one man. That is Dr. Fauci."
She continued, "Dr. Fauci is responsible for all of this. He created the gain-of-function. He gave it to China. They created the bioweapon, which is Covid-19, and it broke the world."
Advertisement - story continues below
Greene went on to argue, "But our government and anyone that goes along with this and doesn't fire Fauci, investigate him, prosecute him and hold him accountable is failing the American people."
this Marjorie Taylor Greene rant on Steve Bannon's show is insane but it also highlights where Trumpers are at these days with their Covid conspiracy theories. pic.twitter.com/0fLBphhpN3

— Aaron Rupar (@atrupar) January 13, 2022
During a Senate hearing in November, Sen. Rand Paul (R-Ky.) pressed Fauci on his claims that the NIH did not fund gain-of-function research in China.
"Your persistent denials…are not simply a stain in your reputation but a clear and present danger to the country and to the world," Paul said.
Advertisement - story continues below
He added, "Why does it matter? Because gain-of-function research, with laboratory created viruses not found in nature could cause a pandemic even worse the next time. We're suffering from one today that has a mortality of approximately one percent. They're experimenting with viruses that have mortalities of between 15 and 50 percent. Yes, our civilization could be at risk from one of these viruses."
In October, the NIH admitted to funding gain-of-function research on bat coronaviruses, as the New York Post reported.
According to the outlet, gain-of-function research is the process of "viruses being taken from animals before they are genetically altered in a lab to make them more transmissible to humans."
The Post noted the admission contradicts Fauci's testimony about gain-of-function research before Congress in May and July.
Paul reacted to the letter on Twitter.
Advertisement - story continues below
"I told you so" doesn't even begin to cover it here: https://t.co/9JFn85I24i

— Senator Rand Paul (@RandPaul) October 21, 2021
"'I told you so' doesn't even begin to cover it here," he tweeted.
Truth and Accuracy
We are committed to truth and accuracy in all of our journalism. Read our editorial standards.
Comment Down Below
Conversation