News
Maxine Waters Blasts MTG for Introducing Bill to Award Medal to Rittenhouse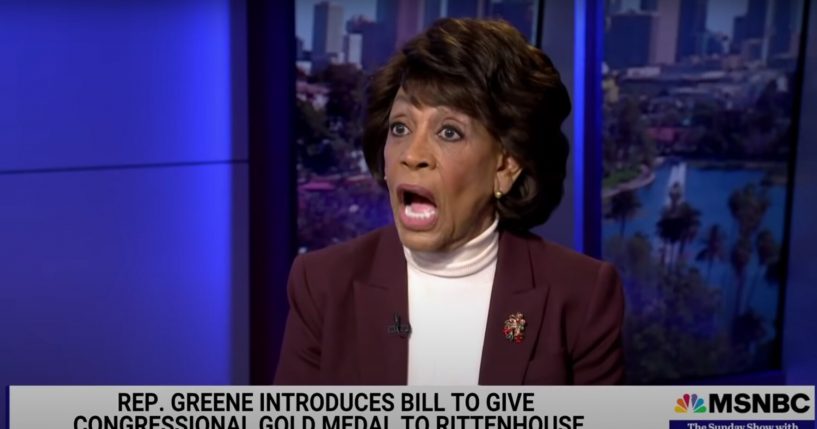 Rep. Maxine Waters (D-Calif.) says it is "ridiculous" that Rep. Marjorie Taylor Greene (R-Ga.) wants to award the Congressional Gold Medal to Kyle Rittenhouse.
"That's how ridiculous she is. I believe that not only Republicans who are supporting her do not believe that they should do that. She wants to bring… Rittenhouse to the Congress of the United States, even wants to make him an intern," Waters said during an appearance on MSNBC Sunday.
She added, "And once it's gold medal or whatever it is that should be awarded to him, I think that's so ridiculous but that is typical of who she is and how she acts and what she will say."
Advertisement - story continues below
Waters accused Greene of not having respect for "anything, anybody, the constitution, the Congress of the United States."
She continued, "So we can expect anything from this crazy woman."
Watch her comments below:
Advertisement - story continues below
Greene introduced the bill on Friday, as IJR reported. The summary of the bill states it would "award a Congressional Gold Medal to Kyle H. Rittenhouse, who protected the community of Kenosha, Wisconsin, during a Black Lives Matter (BLM) riot on August 25, 2020."
She said in a statement, "Kyle Rittenhouse deserves to be remembered as a hero who defended his community, protected businesses, and acted lawfully in the face of lawlessness. I'm proud to file this legislation to award Kyle Rittenhouse a Congressional Gold Medal."
Is Greene's bill "ridiculous"?
Rittenhouse was acquitted on all charges. He defended himself during the trial, saying, "I didn't do anything wrong. I defended myself."
In the summer of 2020, Rittenhouse shot and killed two men and wounded a third during protests following the police shooting of Jacob Blake.
He has received significant backlash for his actions. Students at Arizona State University are even campaigning to get Rittenhouse kicked out.
Truth and Accuracy
We are committed to truth and accuracy in all of our journalism. Read our editorial standards.
Comment Down Below
Conversation