News
McConnell Dodges Question on Whether He Would Block a SCOTUS Nominee in 2023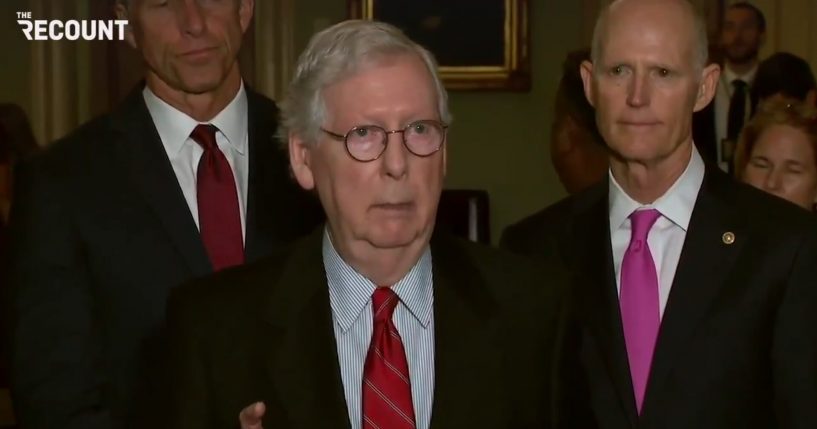 Senate Minority Leader Mitch McConnell (R-Ky.) is not saying whether he would block President Joe Biden from filling a vacancy on the Supreme Court in 2023 if Republicans regained control of the chamber in the midterm elections.
The Kentucky lawmaker said on Monday that if Republicans were in the majority in the Senate and a vacancy opened up on the court in the midst of the 2024 election cycle, he would block Biden from filling. But he did not say if he would let Biden fill a vacancy as early in 2023.
McConnell was asked by CNN's Manu Raju on Tuesday, "Are you saying that if you're the majority leader in 2023 and there's a vacancy on the Supreme Court, you will not move on a Biden nominee?"
Advertisement - story continues below
"When I made the decision I did back in 2016 with regard to a vacancy on the Supreme Court occurring in a presidential year. I was very much aware of the fact that when you have divided government, there had not been a nominee by a Senate of a different party from the president since the 1880s," McConnell said.
He continued, "I was also aware that Joe Biden, chairman of the Judiciary Committee, in 1992 a time of divided government had said had a vacancy occurred they would not fill it."
"So what I said yesterday, Manu, was simply to repeat the position I took in 2016. I'm absolutely confident if the shoe had been on the other foot, the other side would have done the same thing," he added.
As he started to move on to another a question, a separate reporter can be heard noting that "2023 isn't an election year."
Advertisement - story continues below
However, he did not clarify if he would move to fill a vacancy that year.
Watch the video below:
CNN's @mkraju asks Sen. Minority Leader McConnell if he meant what he said Monday, that he would block a Supreme Court nominee in 2023/24 if he is in the majority.

McConnell evades the question and revisits his "divided government" no-vote for Merrick Garland in 2016. pic.twitter.com/dm5V3hwFbV

— The Recount (@therecount) June 15, 2021
During an interview with conservative radio host Hugh Hewitt on Monday, McConnell was asked, "Would the rule that you applied in 2016 to the Scalia vacancy apply in 2024 to any vacancy that occurred then?"
"Well, I think in the middle of a presidential election, if you have a Senate of the opposite party of the president, you have to go back to the 1880s to find the last time a vacancy was filled," McConnell said, adding, "So, I think it's highly unlikely. In fact, no. I don't think either party, if it controlled, if it were different from the president, would confirm a Supreme Court nominee in the middle of an election."
Advertisement - story continues below
In April, McConnell signaled he plans to put up stiff resistance to Biden's agenda as he said he would "fight them every step of the way because I think this is the wrong prescription for America."
On Tuesday, Sen. John Barrasso (R-Wyo.), the No. 3 Republican in the Senate, said he hopes to block Biden from getting much done after the 2022 midterm elections.
"I want to make Joe Biden a one-half-term president. And I want to do that by making sure they no longer have the House, Senate, and White House," he said at a Ripon Society event.
Truth and Accuracy
We are committed to truth and accuracy in all of our journalism. Read our editorial standards.
Conversation