News
Memoir Shares How Melania Trump's Presence Was 'Unexpected' in the Situation Room During 2019 ISIS Raid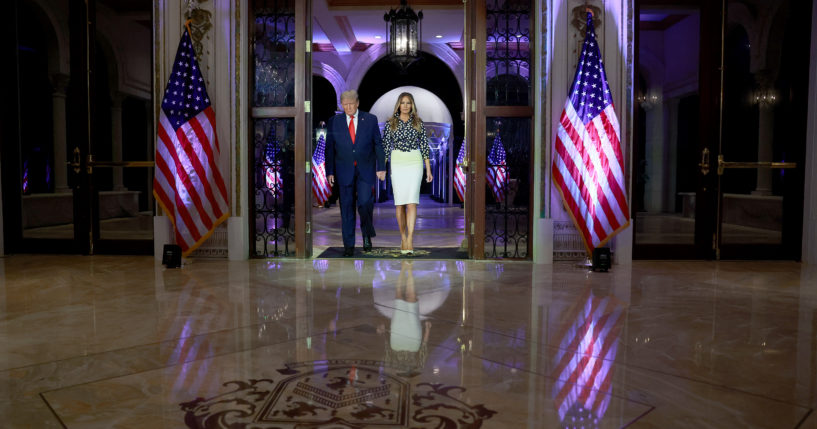 Former First Lady Melania Trump's presence in the situation room during a raid in Syria was "unexpected," according to a memoir.
The Hill obtained an advanced copy of the memoir titled, "Soldier Secretary," by former acting Defense Secretary Christopher Miller, who discussed her presence during the event.
In the memoir, Miller writes how Melania Trump joined himself and other officials to watch the raid by the U.S. that resulted in the death of ISIS leader Abu Bakr al-Baghdadi.
Advertisement - story continues below
According to Miller, former President Donald Trump, former Vice President Mike Pence, Defense Secretary Mark Esper and Chairman of the Joint Chiefs of Staff Gen. Mark Milley were also present in the room.
When it comes to Melania Trump, Miller wrote, "Her presence was unexpected, to say the least."
He continued, "I wondered how it would play in the press if word got out that the first lady had popped in to watch a major military operation."
The memoir explains there were several individuals in the room offering predictions and comments as it was coming to an end.
Advertisement - story continues below
Miller states that one included a graphic description leading Melania Trump to look "up in horror," The Hill reported.
The outlet noted a combat dog named Conan led forces into the compound where al-Baghdadi was located.
Al-Baghdadi proceeded to blow himself up while holding two of his kids.
Two of his wives were also killed.
Miller reportedly wrote that President Trump questioned how they would handle the bodies, wondering whether ISIS would consider the two women who were killed innocent casualties.
Advertisement - story continues below
However, Milley said the building would be crushed, per Miller's account.
After asking how the results of the raid should be shared with the American public, Melania Trump said the president should deliver the statement from the Diplomatic Room the following morning.
"You should talk about the dog," Melania Trump reportedly said.
She added, "Everyone loves dogs."
Advertisement - story continues below
Conan was later honored after being injured during the raid.
"Conan is a tough cookie. Nobody's going to mess with Conan."

President Trump honors Conan, the hero Belgian Malinois dog injured in the raid that led to the death of ISIS leader al-Baghdadi in Syria. https://t.co/XHrHEQrAek pic.twitter.com/OwrFyvqyCN

— This Week (@ThisWeekABC) November 25, 2019
Miller's memoir is expected to be released Tuesday.
Truth and Accuracy
We are committed to truth and accuracy in all of our journalism. Read our editorial standards.
Comment Down Below
Conversation