News
Elon Musk Urges Congress to 'Can' Biden's Spending Bill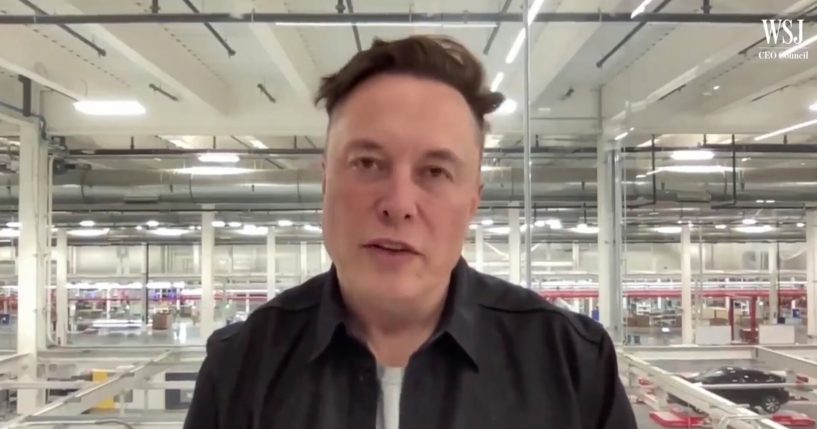 Tesla CEO Elon Musk believes President Joe Biden's roughly $2 trillion Build Back Better Act is "unnecessary."
"Honestly, I would just can this whole bill. Don't pass it. That's my recommendation," Musk told The Wall Street Journal's CEO Council Summit.
Watch the video below:
Advertisement - story continues below
Elon Musk eviscerates Biden's spending bill:

"Honestly, I would just can this whole bill—don't pass it." pic.twitter.com/sTviTHkpB0

— The First (@TheFirstonTV) December 7, 2021
In November, the House passed the massive spending package with every Republican and one Democrat voting against it, as IJR reported.
The social spending and climate bill, includes provisions to fund universal preschool, access to "high quality" child care, provide affordable home-care for elderly Americans and individuals with disabilities, extend the Child Tax Credit for one year "with monthly payments for households earning up to $150,000 per year."
It also provides roughly $550 billion for investments in clean energy and efforts to combat climate change.
Advertisement - story continues below
The package also includes a $12,500 refunded tax credit for people who buy electric vehicles.
As CNET explains, "Currently, the tax credit is a nonrefundable credit when you file your taxes. That means that the government does not cut you a check for $7,500 — all it does right now is reduce your federal tax bill."
"The latest version of the Build Back Better bill with new House language turns the EV tax credit into a refundable one…The change would move the tax credit much closer to a point-of-sale incentive, and with the right qualifying EV, buyers could receive a max of $12,500 back from the government for buying a battery-powered car," it adds.
Democrats are planning to use the process known as budget reconciliation to pass the Build Back Better bill, which would advance the legislation without any Republican votes.
For their plan to work, all 50 Democrats would have to vote for the legislation, with Vice President Kamala Harris casting the tie-breaking voting.
Advertisement - story continues below
Several Republicans have voiced opposition to the bill, and Sen. John Kennedy (R-La.) believes there is no way to "improve" the bill.
During Sunday's appearance on Fox News, Kennedy said the bill has "trillions of dollars of new spending, new taxes, new debt, new welfare programs."
"The only way I know how to improve it is with a shredder. It's going to fuel inflation. When a hot pocket costs you $10, remember we're building back better," he added.
Truth and Accuracy
We are committed to truth and accuracy in all of our journalism. Read our editorial standards.
Comment Down Below
Conversation