News
New York Times Ends Relationship With Reporter Over History of Anti-Semitic Statements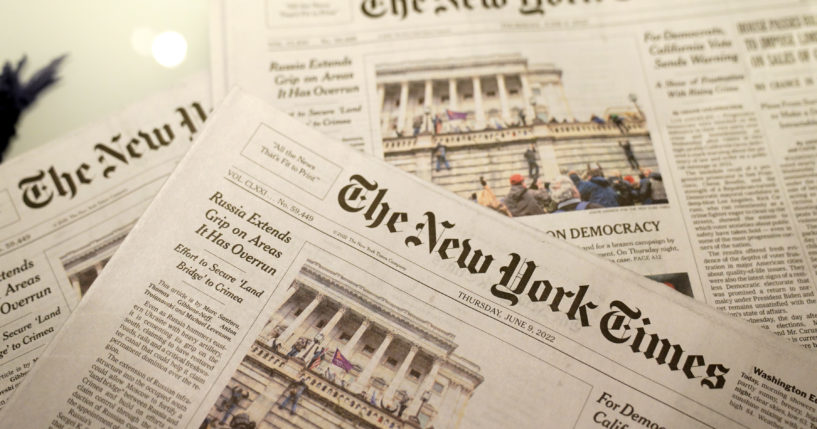 The New York Times' relationship with a reporter has come to an end.
According to The Times of Israel, the newspaper ended its relationship with Palestinian freelancer and fixer Fady Hanona on Friday.
The Times of Israel noted that Honest Reporting, a pro-Israel media watchdog, posted social media posts made by Hanona.
Advertisement - story continues below
According to the watchdog, Hanona said in one post, "I don't accept a Jew, Israeli or Zionist, or anyone else who speaks Hebrew. I'm with killing them wherever they are: children, elderly people, and soldiers."
Additionally, Hanona reportedly added, "The Jews are sons of the dogs… I am in favor of killing them and burning them like Hitler did. I will be so happy."
"the Jews are sons of dogs and I am with killing them, and burning them like Hitler did to them (smiley face)" – Fady Hossam Hanona

This Hitler praising antisemite covers the Israel/Palestinian conflict for the NY Times, Guardian, and VICE News. pic.twitter.com/dWYmCdv1y3

— StopAntisemitism (@StopAntisemites) August 11, 2022
He also allegedly posted a quote attributed to Hitler.
Advertisement - story continues below
"As Hitler said, give me a Palestinian soldier and a German weapon, and I will make Europe crawl on its fingertips," Hanona wrote.
A spokeswoman for the Times issued a statement to The Algemeiner about the relationship.
Was this the right decision?
"The New York Times had worked with this freelance reporter only in recent weeks. We are no longer doing so," the spokeswoman said.
The Times of Israel pointed out Hanona contributed to at least six articles that the Times published during the most recent violence in Gaza.
Earlier this month, The Washington Post reported that Israel and Palestinian militants were exchanging fire in the Gaza Strip "in the worst bout of cross-border violence since an 11-day war between Israel and Hamas last year."
Truth and Accuracy
We are committed to truth and accuracy in all of our journalism. Read our editorial standards.
Comment Down Below
Conversation