News
NIH Director Advises Parents To Wear Masks at Home To Protect Kids Who Are Unvaccinated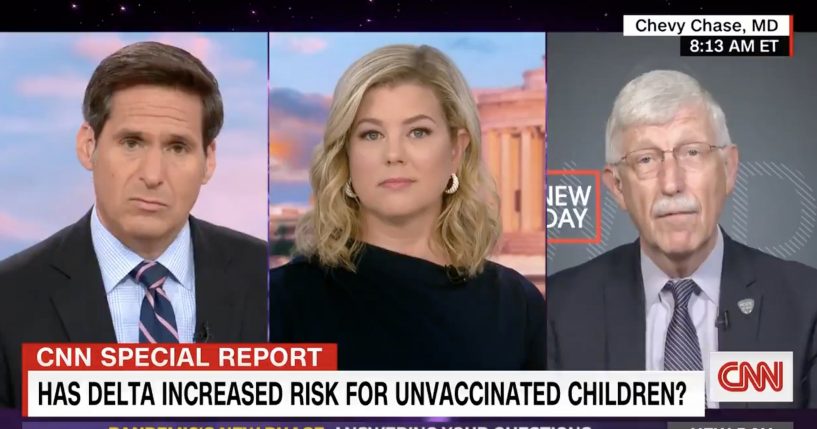 National Institutes of Health (NIH) Director Francis Collins suggests that parents wear masks in their own homes to protect children who might be unvaccinated against COVID-19.
CNN's John Berman brought up a question asked by a parent, asking, "Has Delta increased the risk for young children? My daughter is 2 years old and doesn't wear a mask. Should we avoid taking her indoors in public?"
Collins replied, "It's clear that this variant is capable of causing serious illness in children. You have heard those stories coming out of Louisiana pediatric ICUs where there are kids as young as a few months old who are sick from this."
Advertisement - story continues below
He added, "That is rare, certainly younger people are less likely to fall ill, but anyone that tried to tell you 'you don't have worry about it if you're a young, healthy person,' there's many counterexamples all around us now."
Collins explained that is why it is recommended for kids 12 and under to avoid being in public places where they might get infected.
Watch his comments below:
Advertisement - story continues below
"Which means recommendations of mask-wearing in schools and at home. Parents of unvaccinated kids should be thoughtful about this, and the recommendation is to wear masks there as well. I know that's uncomfortable, I know it seems weird, but it is the best way to protect your kids," Collins said.
Berman pressed Collins on whether the Delta variant is causing children to become more ill. Citing studies, Collins told Berman, "This is not just more contagious but more serious in various age groups."
Last week the U.S. Centers for Disease Control and Prevention (CDC) revised its guidance, recommending teachers, staff, and students of K-12 schools wear masks, even if they are vaccinated, as NPR reported.
Truth and Accuracy
We are committed to truth and accuracy in all of our journalism. Read our editorial standards.
Conversation