News
Noem Distances Herself From Lewandowski Following Allegations of Harassment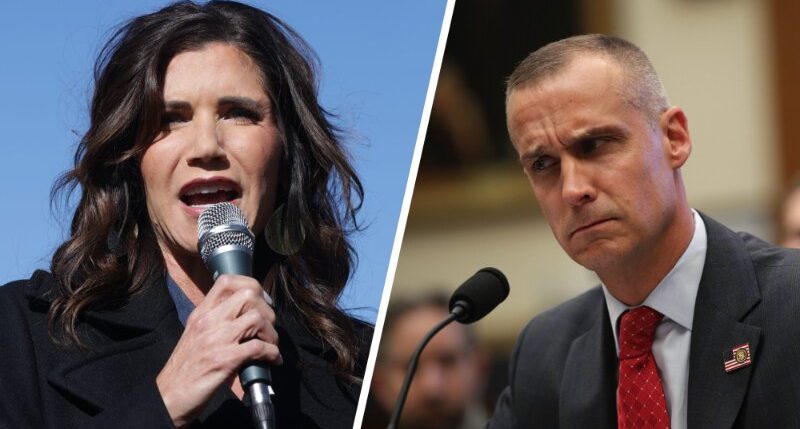 South Dakota Gov. Kristi Noem (R) is distancing herself from former Trump campaign manager Corey Lewandowski after a Trump donor accused him of making unwanted sexual advances toward her.
Politico noted Lewandowski served as a top adviser to Noem and recently traveled across the country with her. He introduced her to top Republican Party donors as well as power-brokers, as the outlet reports.
Ian Fury, a Noem spokesman, told Politico, "Corey was always a volunteer, never paid a dime (campaign or official). He will not be advising the Governor in regard to the campaign or official office."
Advertisement - story continues below
Additionally, Nebraska Republican gubernatorial candidate Charles Herbster distanced himself from Lewandowski.
"I have known Corey Lewandowski since 2015 when I was an early and steadfast supporter of Donald J. Trump for President," Herbster said in a statement.
He continued, "Most recently, Corey has been one of my senior campaign advisors as I run for governor of the state of Nebraska. I've asked Corey to step back from this role. Corey and his family will remain in my prayers."
Trump's director of communications Taylor Budowich also announced on Wednesday, Lewandowski is no longer part of the "Trump world," as IJR reported.
Advertisement - story continues below
"Pam Bondi, the very talented and honorable frmr AG of FL, has our complete faith and confidence in taking over MAGA Action. Corey Lewandowski will be going on to other endeavors and we very much want to thank him for his service," Budowich tweeted.
Politico reported Trashelle Odom, the wife of Idaho construction executive John Odom, accused Lewandowski of touching her repeatedly on her leg and buttocks at a recent fundraising event in Las Vegas.
"He repeatedly touched me inappropriately, said vile and disgusting things to me, stalked me, and made me feel violated and fearful," she said in a statement.
David Chesnoff, an attorney representing Lewandowski, said, "Accusations and rumors appear to be morphing by the minute and we will not dignify them with a further response."
Truth and Accuracy
We are committed to truth and accuracy in all of our journalism. Read our editorial standards.
Conversation