News
NYT Reporter Reveals Who Could Be Trump's Running Mate If He Jumps Into 2024 Race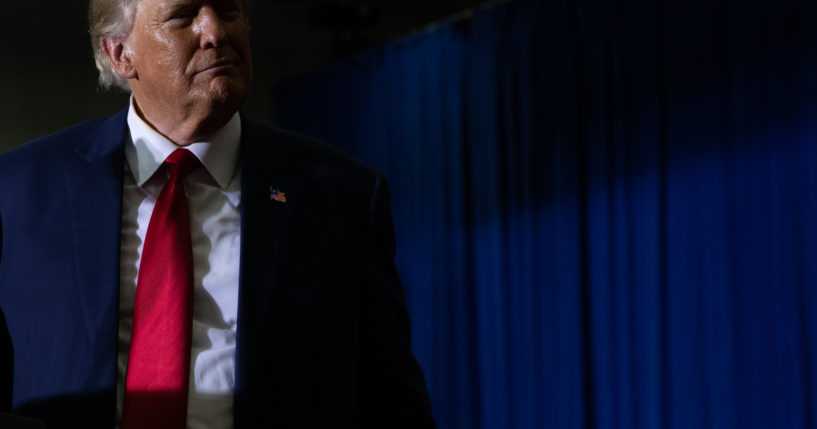 New York Times reporter Maggie Haberman shared who former President Donald Trump is likely to choose for a running mate if he enters the race in 2024.
During an appearance on "The View" co-host Ana Navarro asked Haberman who she believes Trump would look at as a possible running mate.
"There are a couple of people whose names get mentioned and the one who gets mentioned the most by people close to him is Tim Scott from South Carolina, the senator. And then Sarah Huckabee Sanders, who is possibly the next governor of Arkansas," Haberman replied.
Advertisement - story continues below
Whoopi Goldberg could be heard making a sound of disapproval at the mention of Huckabee Sanders' name.
"I didn't mean to cause that. I'm sorry," Haberman said.
Goldberg replied, "It just came up out of my system."
Watch their comments below:
Advertisement - story continues below
Haberman's appearance on the show comes just one day before the release of her book titled, "Confidence Man: The Making of Donald Trump and the Breaking of America."
Would these be good choices for Trump's potential running mate?
During an interview with CBS News on Sunday, Haberman was asked about rumors that Trump is thinking about running again.
"I think he's backed himself into a corner where he has to run," Haberman said.
She argued the former president "needs the protections that running for president, he thinks, would afford him in combating investigations that he calls a 'witch hunt.'"
Advertisement - story continues below
Haberman continued, "And it is the way that he fundraises and makes money. So much of his identity now is about being a politician. So I expect that he will run. That doesn't mean that even if he declares a candidacy that he will stay in the whole time."
The Justice Department is currently investigating Trump's attempt to overturn the results of the 2020 election and his handling of sensitive documents at his Mar-a-Lago residence.
Trump took to his Truth Social platform to blast Haberman after sitting down with her on three separate occasions for her book, as IJR reported.
 "Here we go again! Another Fake book is out, this one, supposedly very boring and stale, by self appointed head case, Failing (unfunded liability!) New York Times writer, Maggie Hagerman," Trump wrote.
Advertisement - story continues below
He added, "In it she tells many made up stories, with zero fact checking or confirmation by anyone who would know, like me. In one case she lies about me wanting to fire my daughter, Ivanka, and Jared. WRONG, pure fiction."
Truth and Accuracy
We are committed to truth and accuracy in all of our journalism. Read our editorial standards.
Comment Down Below
Conversation