News
Trump Slams New York Times Reporter After Sitting Down With Her 3 Times for Upcoming Book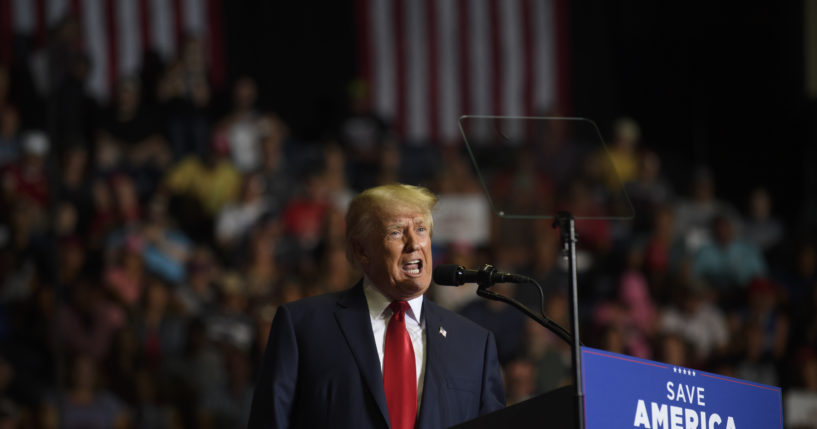 Former President Donald Trump blasted a New York Times reporter after sitting down with her on three separate occasions for her upcoming book.
Trump took to his platform Truth Social to blast Maggie Haberman ahead of the release of her upcoming book titled, "CONFIDENCE MAN: The Making of Donald Trump and the Breaking of America."
He reportedly gave her three interviews for the book.
Advertisement - story continues below
The former president wrote, "Here we go again! Another Fake book is out, this one, supposedly very boring and stale, by self appointed head case, Failing (unfunded liability!) New York Times writer, Maggie Hagerman."
He continued, "In it she tells many made up stories, with zero fact checking or confirmation by anyone who would know, like me. In one case she lies about me wanting to fire my daughter, Ivanka, and Jared. WRONG, pure fiction."
According to Trump, it "never even crossed" his mind.
Concluding his statement, he wrote, "Just have to fight trouble making creeps like Maggie, and all the rest!"
Advertisement - story continues below
Haberman shared the post to her Twitter account.
She also shared a screenshot of what appears to be Trump's handwriting in her book.
Do you think this is another fake book?
From CONFIDENCE MAN pic.twitter.com/TML85hMT07

— Maggie Haberman (@maggieNYT) September 30, 2022
Trump's post came less than a week after The Atlantic published an excerpt of Haberman's book, as IJR reported.
Haberman wrote in her book that the former president told two of his aides during an interview with the reporter how much he enjoyed her company.
Advertisement - story continues below
"I love being with her; she's like my psychiatrist," Trump reportedly said.
Haberman explained, "It was a meaningless line, almost certainly intended to flatter, the kind of thing he has said about the power of release he got from his Twitter feed or other interviews he has given over the years."
She added, "The reality is that he treats everyone like they are his psychiatrists — reporters, government aides, and members of Congress, friends and pseudo-friends and rally attendees and White House staff and customers."
Truth and Accuracy
We are committed to truth and accuracy in all of our journalism. Read our editorial standards.
Comment Down Below
Conversation