News
Pence Rips Into Biden for 'Disastrous Withdrawal' From Afghanistan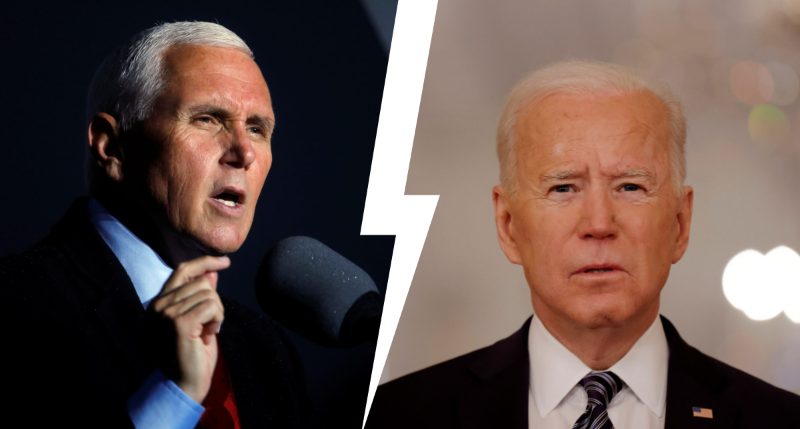 Former Vice President Mike Pence is laying into President Joe Biden for what he says is a "disastrous" withdrawal from Afghanistan.
In an op-ed published in The Wall Street Journal on Tuesday, Pence recalled Biden's prediction that the Taliban would not overrun Afghanistan.
"One month later, the scenario Mr. Biden deemed impossible has become a horrifying reality. In recent days, the world has watched panicked civilians cling to U.S. military aircraft in a desperate attempt to escape the chaos unleashed by Mr. Biden's reckless retreat," Pence said, adding, "American diplomats had to beg our enemies not to storm our embassy in Kabul. Taliban fighters have seized scores of American military vehicles, rifles, artillery, aircraft, helicopters, and drones."
Advertisement - story continues below
He continued, "The Biden administration's disastrous withdrawal from Afghanistan is a foreign-policy humiliation, unlike anything our country has endured since the Iran hostage crisis."
Former President Donald Trump used similar language when he stated, "I don't think in all of the years our country has ever been so humiliated." He also noted the Iran hostage crisis.
Pence charged that the withdrawal "has embarrassed America on the world stage, caused allies to doubt our dependability, and emboldened enemies to test our resolve."
"Worst of all, it has dishonored the memory of the heroic Americans who helped bring terrorists to justice after 9/11, and all who served in Afghanistan over the past 20 years," he added.
Advertisement - story continues below
He explained that the peace agreement the Trump administration negotiated with the Taliban was conditioned on a commitment to end attacks of U.S. service members, to not harbor terrorist groups, and to negotiate with the Afghan government to form a new government.
"As long as these conditions were met, the U.S. would conduct a gradual and orderly withdrawal of military forces," Pence said.
The former vice president noted that there had not been an American combat death in 18 months.
He said that when the Trump administration came to an end, "the Afghan government and the Taliban each controlled their respective territories," and neither was launching major offensives. Additionally, he noted that the number of U.S. troops in Afghanistan had dropped to 2,500.
"America's endless war was coming to a dignified end, and Bagram Air Base ensured we could conduct counterterrorism missions through the war's conclusion," Pence said as he claimed the Taliban "understood that the consequences of violating the deal would be swift and severe."
Advertisement - story continues below
He then blasted Biden's plan for the withdrawal as he noted that American military equipment has been left behind and thousands of Americans and Afghan allies are still in the country amid a rushed evacuation effort.
He also claimed the Taliban believed there was "no credible threat of force" under Biden if they took over Afghanistan.
Finally, Pence said, "After 20 years, more than 2,400 American deaths, 20,000 Americans wounded, and over $2 trillion spent, the American people are ready to bring our troops home."
"But the manner in which Mr. Biden has executed this withdrawal is a disgrace, unworthy of the courageous American service men and women whose blood still stains the soil of Afghanistan," he added.
Truth and Accuracy
We are committed to truth and accuracy in all of our journalism. Read our editorial standards.
Comment Down Below
Conversation