News
Pentagon Spox Reacts To Video of Taliban Fighters Inspecting US Military Equipment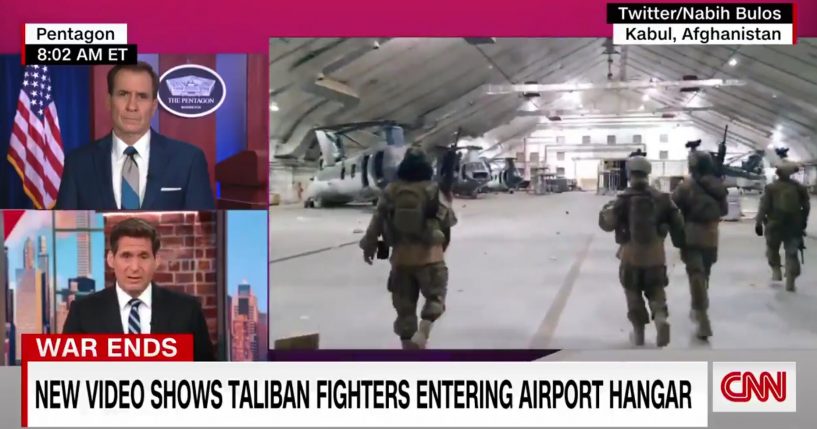 Pentagon press secretary John Kirby is reacting to a video of Taliban fighters looking at U.S. military equipment inside of an evacuated airport hangar in Afghanistan.
During an appearance on CNN's "New Day" Tuesday, host John Berman asked Kirby, "How is that anything other than a U.S. defeat?" 
Kirby responded,  "They can inspect all they want. They can look at them, they can walk around, but they can't fly them. They can't operate them."
Advertisement - story continues below
He added, "We made sure to demilitarize, to make unusable, all the gear that is at the airport."
According to Kirby, the only things left operable were "a couple of fire trucks and some fork lifts" so the airport can remain operational.
He explained they are "not overly concerned about these images of them walking around."
Watch his interview below:
Advertisement - story continues below
At the Pentagon, there's relief for those who were evacuated safely and concern for those who weren't, press secretary John Kirby says.

"There is no question the threat … in Afghanistan remains high. Obviously, we are concerned about the potential for Taliban retribution." pic.twitter.com/Rbq6BqEMu7

— New Day (@NewDay) August 31, 2021
Kirby told Berman "the historians will write the chapters" about whether this was a loss for the U.S. 
Is it a loss for the U.S.?
"What I can tell you is that we prevented Afghanistan from becoming a safe haven for an attack on the United States again," Kirby said. "In the process, U.S. forces, coalition forces, our NATO allies, and our Afghan partners made a lot of progress in that country."
On Tuesday, the Taliban declared "Afghanistan is finally free" following the U.S. troop withdrawal, as IJR reported.
"The military and civilian side (of the airport) are with us and in control. Hopefully, we will be announcing our Cabinet. Everything is peaceful. Everything is safe," Hekmatullah Wasiq, a top Taliban official, told The Associated Press.
Advertisement - story continues below
The Pentagon press secretary expressed concern for the Americans and Afghan allies left behind in Afghanistan.
"Although we don't think the numbers are large, we're still obviously concerned about our allies and friends and fellow American citizens that are still there," Kirby explained.
He acknowledged the "threat environment in Afghanistan remains high."
Truth and Accuracy
We are committed to truth and accuracy in all of our journalism. Read our editorial standards.
Comment Down Below
Conversation