News
Protesters Arrested Outside of New York Times Printing Plant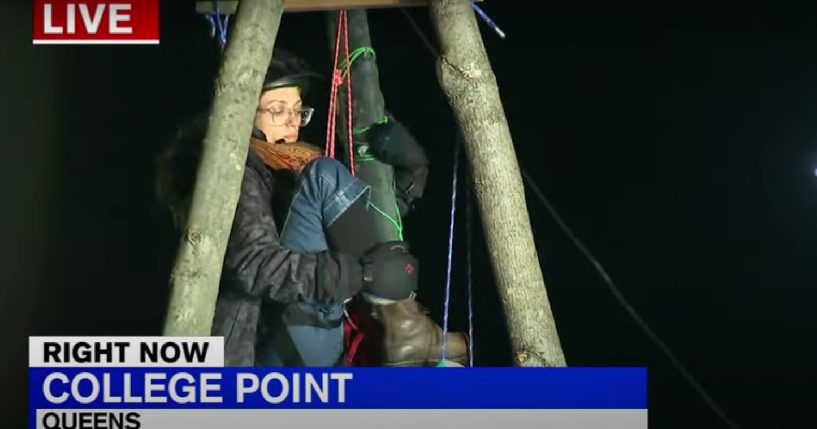 Thirteen protesters were arrested after demonstrating outside of The New York Times printing facility in Queens, New York.
WABC-TV's Derick Waller explained early Friday, "Protesters are basically engaged in a stand-off with the police outside The New York Times printing facility."
He said police were "basically cutting this apparatus down that protesters have chained themselves to."
Advertisement - story continues below
Waller pointed out there was a protester dangling from the top of the structure.
"They are basically trying to stop these trucks full of today's New York Times newspaper from leaving the facility," Waller said.
The protesters are associated with a group called Extinction Rebellion which does protests to call attention to the climate emergency.
Watch the video below:
Advertisement - story continues below
According to the outlet, seven men and eight women were eventually taken into custody, citing officials.
"They just wasted their time and a whole bunch of resources from New York City," newspaper delivery driver Garson Kannon told WABC-TV. "And if you want to help global warming, there's 200 trucks here running, dealing with this issue. We're not helping global warming right now."
One protester, Will, said, "We're here to stop distribution of the New York Times and other affiliate papers," adding, "We don't believe that they're covering climate change well enough," as the outlet reported.
The Times issued a statement responding to the protest.
Advertisement - story continues below
"Climate change is one of the most pressing issues of our time and there is no national news organization that devotes more time, staff or resources to producing deeply reported coverage to help readers understand these issues than The New York Times," the newspaper said.
According to the statement, the Times has "published more than 5,000 pieces of climate journalism, led by dedicated climate journalists working alongside photographers, video and data journalists, and Times colleagues on the ground worldwide to produce leading environmental journalism and climate investigations."
The statement continues, "While we fully support this group's right to express their point of view, even when we disagree with it as it relates to our coverage, disrupting our business operations and depriving people of critical information is not acceptable. We are working to notify and complete delivery to affected New York Times subscribers."
Truth and Accuracy
We are committed to truth and accuracy in all of our journalism. Read our editorial standards.
Comment Down Below
Conversation