News
Room Falls Silent After Marjorie Taylor Greene Makes Argument About Biden and Suspected Spy Balloon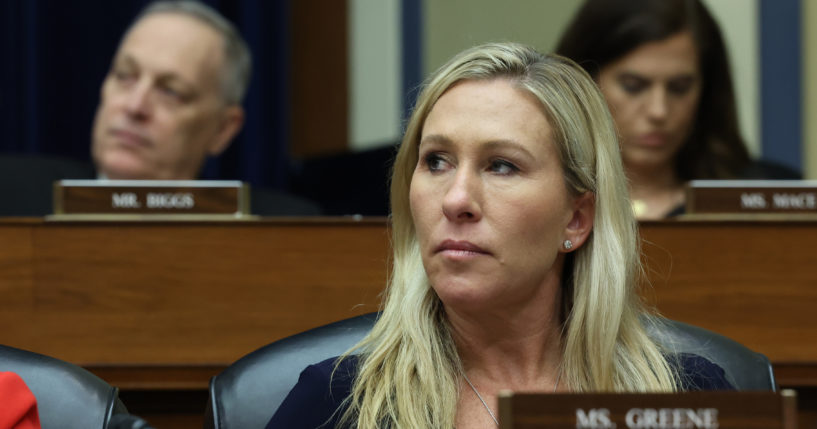 Rep. Marjorie Taylor Greene (R-Ga.) made an argument about President Joe Biden and a suspected Chinese spy balloon that caused the crowd at a dinner to fall silent.
While speaking at a Lincoln Day dinner in Idaho over the weekend, Greene said, "It finally leaves the coast and then, oh, they shot it down. The excuses that were given on this were pathetic, absolutely pathetic. They told us it was too risky."
She continued, "Oh, it was too risky to shoot down the Chinese spy balloon. And do you know what a bunch of bullsh*t that is?"
Advertisement - story continues below
The remarks prompted cheers from the crowd.
"Yeah, They said it's three school buses. Three school buses. Why? Okay, well, do you guys remember on 9/11 when an airplane crashed in Pennsylvania, a jetliner?" Greene explained.
The crowd went silent.
"Remember that? It didn't kill anybody on the ground. Killed everyone on board, but it didn't kill anyone on the ground. So they want to tell all of us that it was too risky to take down that Chinese spy balloon over rural Idaho or Montana or any of these other states or Alaska," Greene added.
Advertisement - story continues below
She claimed, "they're liars."
Greene went on, "There you can only see it two ways. Either they're liars or they're cowards or our president is sold out to China. Oh, you know what? I'll go with all three."
The crowd then got back to cheering.
Watch the video below:
Creepy and sickening. Marjorie Taylor Greene compares shooting down the Chinese spy balloon to what happened on 9/11. Keep in mind, this woman is now considered a leader in the Republican Party. pic.twitter.com/qnCH5A4IHS

— Mike Sington (@MikeSington) February 14, 2023
Advertisement - story continues below
Last week, Greene shared how she addressed officials during a briefing on the balloon that entered U.S. airspace expressing similar frustration, IJR reported.
"I had to wait in line the whole time. I was, I think, the second to last person, and I chewed them out just like the American people would've," Greene said.
She added, "I tore 'em to pieces."
On Thursday, Biden explained why the balloon was not a "major breach."
Advertisement - story continues below
"Look, the total amount of intelligence gathering that's going on by every country around the world is overwhelming," Biden explained during an interview with Noticias Telemundo.
The president ordered the military take down the balloon off the South Carolina coast after it was previously reported flying over Montana.
Over the weekend, another three unidentified flying objects were shot down.
Truth and Accuracy
We are committed to truth and accuracy in all of our journalism. Read our editorial standards.
Comment Down Below
Conversation