Schumer, Klobuchar Push for Senate Mask Mandate, Testing Program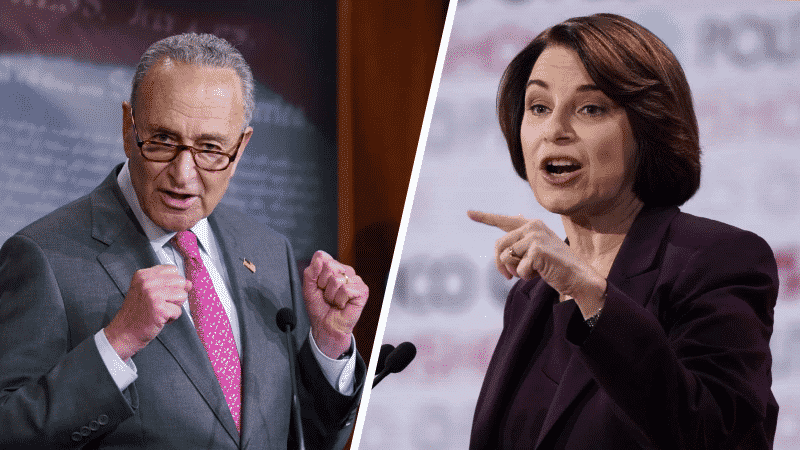 Senate Minority Leader Chuck Schumer (D-N.Y.) and Sen. Amy Klobuchar (D-Minn.) are urging the Senate to implement a mask mandate and formal testing program amid a COVID-19 outbreak among senators.
"The U.S. Senate has become a COVID-19 hotspot and we need to take immediate action, guided by the best science, to put in place additional protections to safeguard the health of the Senate complex workers, Senate staff, and Senators," Schumer said in a statement.
He added, "Senate Republicans must join us here in reality and acknowledge that through their inaction, they are creating a truly dangerous situation."
The resolution calls for mandatory mask-wearing in public areas of the Senate, social distancing, and a testing and contact tracing system.
"I have worked to ensure that the legislative branch can continue to operate since the start of this pandemic," Klobuchar said.
She continued, "This resolution will require mandatory masks and a reliable testing protocol in the Senate. These are common sense measures our government must have in place to protect the Senate community, including our staff, and to fully function during this pandemic. This is critical for continuity of government and our work on behalf of the American people."
Klobuchar/Schumer introduce measure that wouls make masks mandatory in the Capitol, require persons with COVID-19 to produce two negative tests on separate days. pic.twitter.com/j6GHebaaSA

— Chris Cioffi (@ReporterCioffi) October 7, 2020
Three senators have tested positive for the coronavirus, as IJR previously reported.
Sen. Ron Johnson (R-Wis.), Sen, Mike Lee (R-Utah), and Sen. Thom Tillis (R-N.C.) since Friday said they have all been infected.
Because of the outbreak among senators, Democrats are urging the Supreme Court to delay confirmation hearings for President Donald Trump's nominee, Judge Amy Coney Barrett.
Schumer and Sen. Dianne Feinstein (D-Calif.) penned a letter to the Senate demanding it not rush the confirmation, as IJR previously reported.
During her appearance on "Fox News Sunday," Klobuchar said, "I don't know why you would ram through this Supreme Court hearing, put people in danger."