Schumer Rails Against Republicans for Their Resistance to Biden's COVID-19 Relief Package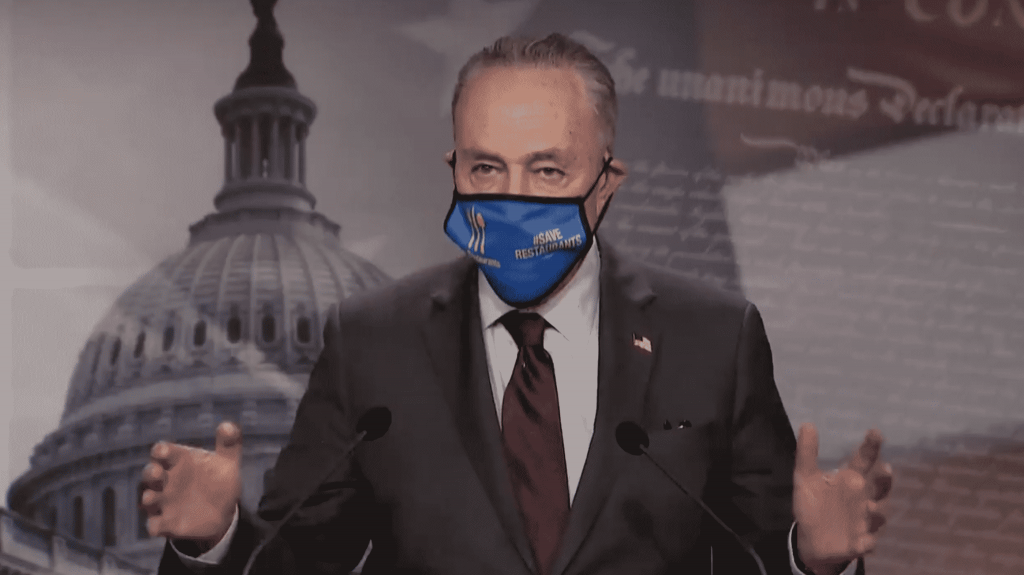 Senate Majority Leader Chuck Schumer (D-N.Y.) is revealing what he believes is the real reason why Democrats appear to be more interested in bipartisanship than Republicans.
"COVID crisis rages, a Republican president, Democrats come together with Republicans and pass two bills or four bills really," Schumer said on Tuesday.
He continued, "Democratic president, Republicans don't even work with Democrats. If anyone doubts who's more interested in bipartisanship, just look at that."
Watch his remarks below:
Schumer on which party really wants unity: 'If anyone doubts who's more interested in bipartisanship, just look at that' pic.twitter.com/nOVXoswCzi

— NowThis (@nowthisnews) February 23, 2021
The House Budget Committee on Monday voted to approve Biden's $1.9 trillion relief bill, as IJR reported.
The measure passed the committee on a vote of 19-16. The House is seeking to pass the package later this week.
Included in the legislation is funding for small businesses, $1,400 direct payments to Americans who make under $75,000 per year, a child tax credit increase, aid to state and local governments, additional money for vaccine distribution, and more funding for schools.
Senate parliamentarian Elizabeth MacDonough is expected to meet with Democratic and Republican staffers to determine whether a provision to increase the minimum wage would be permissible through the process of reconciliation or if it would need to be removed from the package.
Biden said earlier this month, "My guess is it will not be in it. But I do think that we should have a minimum wage, stand by itself, $15 an hour."
Sens. Mitt Romney (R-Utah) and Tom Cotton (R-Ark.) announced their plans to increase the federal minimum wage to $10 per hour, as IJR reported.
"For millions of Americans, the rising cost of living has made it harder to make ends meet, but the federal minimum wage has not been increased in more than ten years," Romney said.
The senators are working to "ensure the wage increase only goes to legal workers."
Romney explained, "We must create opportunities for American workers and protect their jobs, while also eliminating one of the key drivers of illegal immigration."
Cotton said in his own statement, "American workers today compete against millions of illegal immigrants for too few jobs with wages that are too low—that's unfair."
He went on, "Ending the black market for illegal labor will open up jobs for Americans. Raising the minimum wage will allow Americans filling those jobs to better support their families. Our bill does both."