News
Sen. Joni Ernst Calls Biden's Vaccine Plan a 'Diversion Away From 9/11'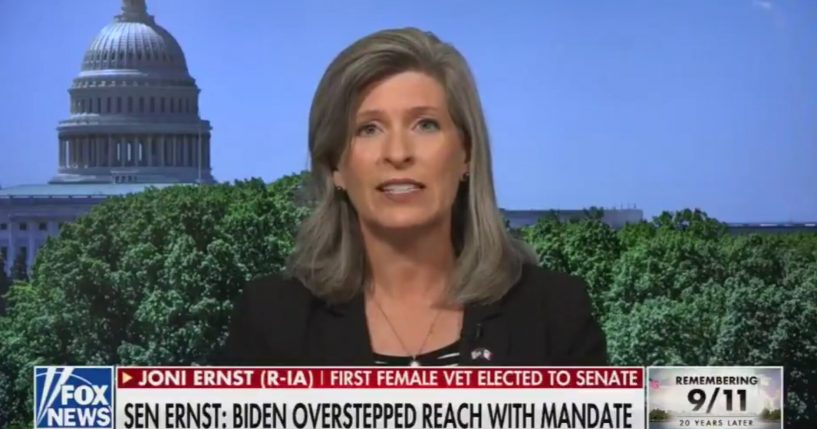 Sen. Joni Ernst (R-Iowa) is accusing President Joe Biden of using his vaccine plan as a "diversion away from 9/11."
She told Fox News Friday, "They are leading by coercion and I would agree with the point that is being made by so many of my colleagues that this is a diversion away from 9/11, away from the 20th anniversary and away from the debacle that was his Afghanistan withdrawal."
Check out the video below:
Advertisement - story continues below
Sen. Joni Ernst claims Biden's new vaccine plan is a "diversion away from 9/11" pic.twitter.com/feegH5mtop

— Aaron Rupar (@atrupar) September 10, 2021
The president announced on Thursday all businesses with 100 or more employees will be mandated to require their workers to get vaccinated or be tested once a week, as IJR reported.
All federal employees will also be required to be vaccinated and will not have the option to get tested weekly for the virus.
After making the announcement, he refused to take any questions. Still, one reporter shouted, "Is this Constitutional?"
Advertisement - story continues below
White House Press Secretary Jen Psaki was asked Thursday if Biden's announcement is an effort to change his falling poll numbers, as IJR reported.
"This is not a political speech, and it's certainly not about poll numbers. What we can acknowledge — and you've seen in a lot of these polls — is that the number-one issue, number-two issue, number-three issue for many Americans is COVID and what we're doing," Psaki said.
Do you think his plan is a "diversion away from 9/11"?
She added, "And we have done a lot of work over the last couple of months, even as we've had conversations and talked about a range of other issues — whether it's Afghanistan or Build Back Better or other issues — in this room and in many forms of media we engage with. So it's an acknowledgement of that."
Psaki also noted "that in all of these polls, support for the President's handling of coronavirus continues to be the majority of the American public, and that hasn't changed."
Truth and Accuracy
We are committed to truth and accuracy in all of our journalism. Read our editorial standards.
Comment Down Below
Conversation