News
'Total Disarray': Sen. Kennedy Takes Swipe at Democrats Over Spending Bill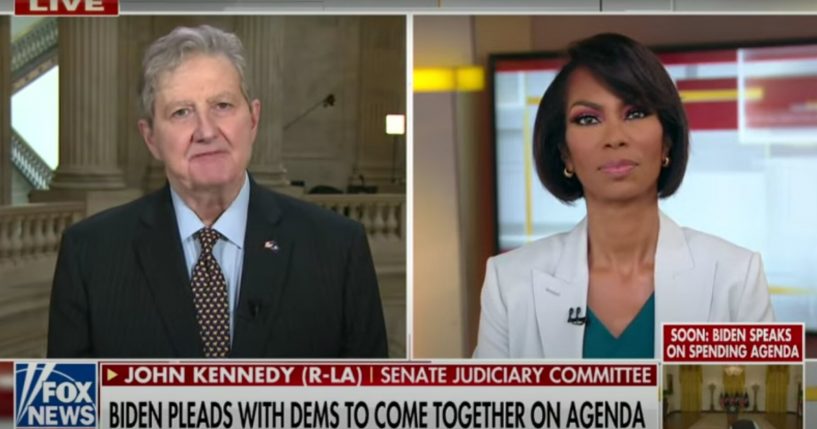 Sen. John Kennedy (R-La.) took a swipe at Democrats, mocking them for pushing their "framework" of the spending bill.
During a Fox News interview Thursday, Kennedy explained, "Here's what I've observed. The Democrats are pretty much in total disarray. President Biden is sort of like Kevin Bacon at the end of 'Animal House,' when people were stampeding him and he's saying, 'calm down, be calm. Everything's under control.'"
He added, "They say they have a 'framework.' To me, a framework is when your car has two wheels down, its axle dragging, you're in the ditch, you don't have any help and you tell your spouse, 'Honey, I've got a framework to get us out of this ditch.'"
Advertisement - story continues below
Kennedy argued individuals "who are successful financially should be applauded, not criticized in America."
He continued, "But I love this term framework. And I've seen a little of it. I know this, they're going to try to crush small business, and they're making tax policy on the basis of class warfare."
Kennedy suggested anybody who votes for these bills without knowing what is exactly in them "is like a rock only dumber."
Watch Kennedy's comments below:
Advertisement - story continues below
President Joe Biden announced Thursday Congressional Democrats reached an agreement on the framework for his Build Back Better Act, as IJR reported.
Are Democrats in "total disarray"?
The package costs $1.75 trillion. The White House said in a statement, "President Biden is confident this is a framework that can pass both houses of Congress, and he looks forward to signing it into law. He calls on Congress to take up this historic bill – in addition to the Bipartisan Infrastructure Investment and Jobs Act – as quickly as possible."
It continues, "This framework will guide the drafting of legislative language. When enacted, this framework will set the United States on course to meet its climate goals, create millions of good-paying jobs, enable more Americans to join and remain in the labor force, and grow our economy from the bottom up and the middle out."
House Speaker Nancy Pelosi (D-Calif.) called for a vote on the $1.2 trillion infrastructure bill Thursday but progressives rejected her demand, saying they would like to see the bill passed with the Build Back Better Act.
Truth and Accuracy
We are committed to truth and accuracy in all of our journalism. Read our editorial standards.
Comment Down Below
Conversation