News
Justice Sonia Sotomayor Argues the Supreme Court Should Not Be Seen as an 'Institution for Entertainment'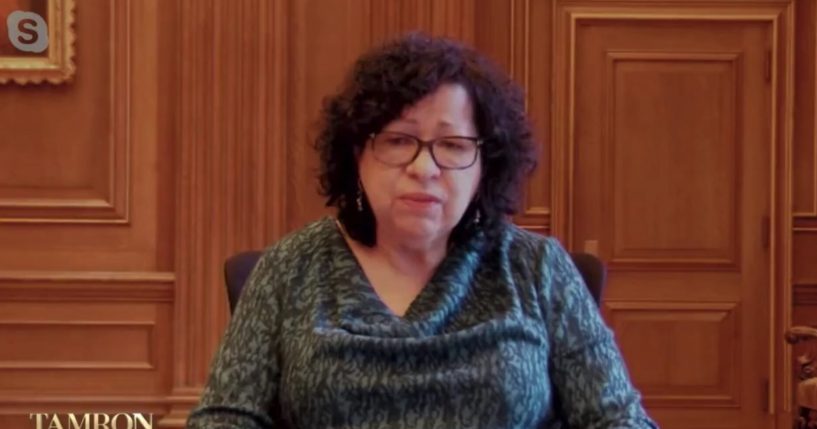 Supreme Court Justice Sonia Sotomayor commented on the court's popularity among young Americans, saying she thinks it is important "not to think about the court as an institution for entertainment."
During an appearance on the "Tamron Hall Show," Sotomayor explained, "We are there engaged in a very serious inquiry with parties who have very significant cases before us and they want to ensure that we are not playing to a larger audience but that we are really concentrated on them and their issues."
"I do think it's important not to think about the Court as an institution for entertainment."

— Supreme Court Justice Sonia Sotomayor on popularization of SCOTUS in pop culture, including phenomena around "Notorious RBG." pic.twitter.com/ZHXIQ6VVNT

— The Recount (@therecount) January 27, 2022
Advertisement - story continues below
During an appearance on "Today" earlier this week, Sotomayor weighed in on public confidence in the court, as IJR reported.
"I think all of us worry about that. We think about ways in which we can comport ourselves, among ourselves to ensure that the public has confidence in what we're doing. I do need to discuss this a little bit with the public to assure them that one of the hardest things about our work is that there are no easy answers," Sotomayor said.
She added, "Reasonable people can disagree. In fact, we only take cases when there are circuit splits – I shouldn't say only. But largely, most of our case docket is when the courts below have disagreed. And because of that, obviously, just as the larger society disagrees about the answers to some of our problems, so does the court. And if you bear that in mind, perhaps the public can be more accepting of the kind of work we do."
Sotomayor's comments come after Justice Stephen Breyer announced his retirement. President Joe Biden vowed to nominate a Black woman to replace him.
Advertisement - story continues below
Senate Majority Leader Chuck Schumer (D-N.Y.) said the Senate "will have a fair process that moves quickly so we can confirm President Biden's nominee to fill Justice Breyer's seat as soon as possible."
Truth and Accuracy
We are committed to truth and accuracy in all of our journalism. Read our editorial standards.
Comment Down Below
Conversation