News
Sotomayor, Gorsuch Knock Reporting on Tensions Over Wearing a Mask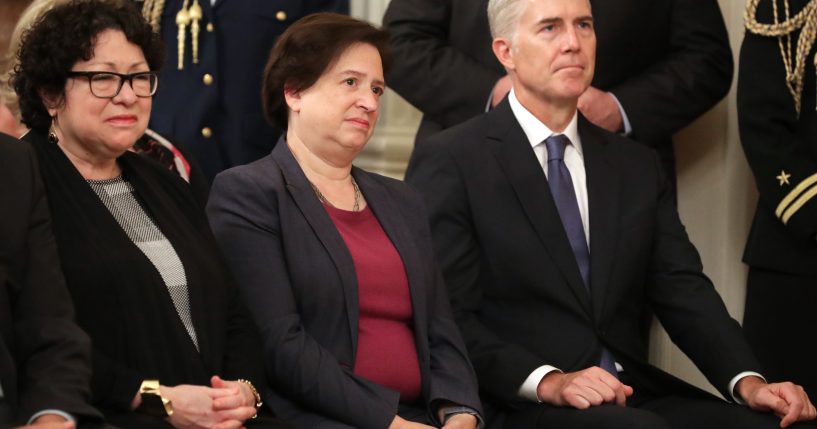 Supreme Court Justices Neil Gorsuch and Sonia Sotomayor are responding to a report about them, calling it "false."
On Wednesday, Gorsuch and Sotomayor released a joint statement, "Reporting that Justice Sotomayor asked Justice Gorsuch to wear a mask surprised us. It is false. While we may sometimes disagree about the law, we are warm colleagues and friends."
JUST IN. SCOTUS releases a short joint statement from Sonia Sotomayor and Neil Gorsuch:

"Reporting that Justice Sotomayor asked Justice Gorsuch to wear a mask surprised us. It is false. While we may sometimes disagree about the law, we are warm colleagues and friends."

— SCOTUSblog (@SCOTUSblog) January 19, 2022
Advertisement - story continues below
Additionally, Chief Justice Roberts issued a statement reacting to the reporting.
"I did not request Justice Gorsuch or any other Justice to wear a mask on the bench," Roberts said.
New statement from Chief Justice Roberts:
"I did not request Justice Gorsuch or any other Justice to wear a mask on the bench."

— Greg Stohr (@GregStohr) January 19, 2022
Similarly, Fox News's Shannon Bream said she was told the report published by NPR about Gorsuch's alleged refusal to wear a mask on the bench is "not accurate," as IJR reported.
Advertisement - story continues below
She continued, "A source at the Supreme Court says there's been no blanket admonition or request from Chief Justice Roberts that the other justices begin wearing masks to arguments. The source further stated Justice Sotomayor did not make any such request to Justice Gorsuch. I'm told, given that fact, there was also no refusal by Justice Gorsuch. The justices are all vaccinated and boosted, and they do test before taking the bench for arguments."
The NPR report claimed when the justices took the bench for the first time after the holidays, all wore masks, except Gorsuch.
It goes on, "What's more, Justice Sonia Sotomayor was not there at all, choosing instead to participate through a microphone setup in her chambers."
According to the report, Sotomayor "has been the only justice to wear a mask on the bench since last fall when, amid a marked decline in COVID-19 cases, the justices resumed in-person arguments for the first time since the onset of the pandemic."
When asked to wear masks, the report explains, "They all did. Except Gorsuch, who, as it happens, sits next to Sotomayor on the bench. His continued refusal since then has also meant that Sotomayor has not attended the justices' weekly conference in person, joining instead by telephone."
Truth and Accuracy
We are committed to truth and accuracy in all of our journalism. Read our editorial standards.
Comment Down Below
Conversation