News
Supreme Court Justice Writes Solo Dissent in Abortion Case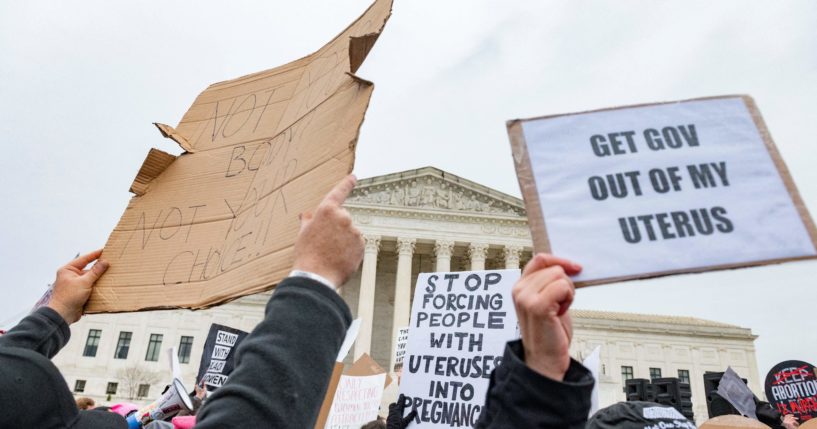 A Supreme Court justice wrote a solo dissent in a case related to abortion and the rights of a minor.
Justice Ketanji Brown Jackson wrote in her dissent, "I am concerned that contemporary practice related to so called 'Munsingwear vacaturs' has drifted away from the doctrine's foundational moorings."
SCOTUS blog explains, "Munsingwear addresses what to do with a court of appeals decision when the case becomes moot while it is pending on review by a higher court (whether the Supreme Court or a court of appeals)."
Advertisement - story continues below
The blog notes "Munsingwear vacatur" is a "less-than-straightforward course to navigate, and one that has occurred in Supreme Court practice only a handful of times in the last five years."
Justice Ketanji Brown Jackson dissents, expresses her concern that "contemporary practice" on these kinds of rulings "has drifted away from the doctrine's foundational moorings" https://t.co/i3dVRpDvKc

— Amy Howe (@AHoweBlogger) March 20, 2023
Jackson explained in her dissent, in the case of United States v. Munsingwear, "This Court observed that, sometimes, that result might be especially unfair, and thus a request for vacatur of the lower court's judgment may be entertained, and granted, to address the inequity."
She continued, "But the Court declined to do so in Munsingwear itself because the equities did not favor the party requesting that relief, as the party had 'slept on its rights….' Later, this Court clarified that this 'Munsingwear vacatur' remedy is available only in 'extraordinary' or 'exceptional' cases where a party meets the burden of demonstrating equitable entitlement to vacatur in an otherwise moot case."
Advertisement - story continues below
The justice shared her view that "it is crucial that we hold the line and limit the availability of Munsingwear vacatur to truly exceptional cases."
The Supreme Court ultimately decided to slash a ruling upholding the right of a minor to ask the court for permission to have an abortion without the parents being notified.
Do you agree with Jackson's dissent?
Politico noted the lower court decision was issued in April 2022 by the 8th U.S. Circuit Court of Appeals based in St. Louis.
The outlet pointed out the ruling appears moot due to the Supreme Court's decision to overturn Roe v. Wade.
In June of last year, Jackson was sworn in as the 116th justice and first Black woman to serve on the bench.
Advertisement - story continues below
"It has taken 232 years and 115 prior appointments for a Black woman to be selected to serve on the Supreme Court of the United States, but we've made it! We've made it — all of us," Jackson said at the time.
She added, "I have dedicated my career to public service because I love this country and our Constitution and the rights that make us free."
Truth and Accuracy
We are committed to truth and accuracy in all of our journalism. Read our editorial standards.
Comment Down Below
Conversation