News
Trump Accuses Graham, Lee of 'Not Putting Up the Fight' Against the 'Crime of the Century'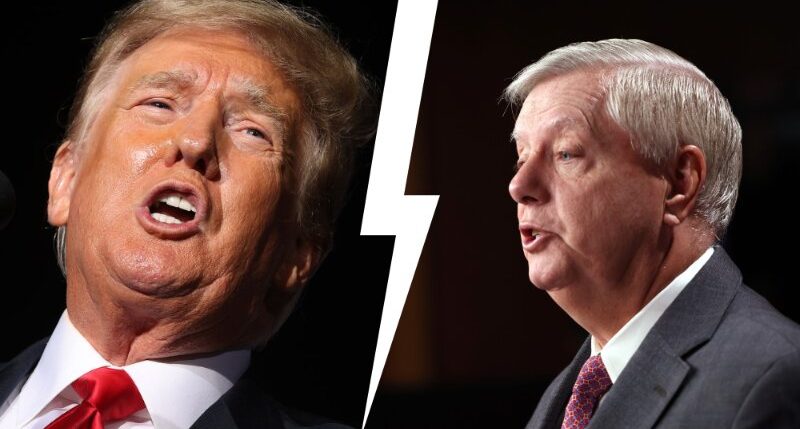 Former President Donald Trump is suggesting Sen. Lindsey Graham (R-S.C.) and Sen. Mike Lee (R-Utah) should "be ashamed of themselves" for not putting up a fight against what he is calling the "crime of the century."
Trump said in a Wednesday statement, "I spent virtually no time with Senators Mike Lee of Utah, or Lindsey Graham of South Carolina, talking about the 2020 Presidential Election Scam or, as it is viewed by many, the 'Crime of the Century.'"
He added, "Lindsey and Mike should be ashamed of themselves for not putting up the fight necessary to win."
Advertisement - story continues below
The former president argued if Senate Majority Leader Chuck Schumer (D-N.Y.) and Democrats had evidence of election fraud "they would have never voted to approve Biden as President, and had they not, all of the mistakes that were made over the last month, which are destroying our Country, would not have happened."
He went on to take another swipe at Graham and Lee, along with other Republicans, who he says "were unwilling to fight for the Presidency of the United States."
Trump said they are "letting the Democrats get away with the greatest Election Hoax in history — a total con job!"
Read the statement below:
Advertisement - story continues below
🚨President Trump Statement:

— Tim Swain (@SwainForSenate) September 23, 2021
Reiterating his unsubstantiated election fraud claims, Trump explained, "Your Republican Presidential candidate won in a landslide, but has so little backing from Republican 'leadership.'"
Should Graham and Lee "be ashamed of themselves"?
He added, "They should be ashamed of themselves. Why don't they have hearings? Or even if just Republicans had open public sessions, we would all hear the irrefutable facts. Remember, the Fake News Media does not report the truth!"
According to the book "Peril," written by Bob Woodward and Robert Costa, Graham called Trump's claims of widespread fraud in the 2020 presidential election suitable for "third grade," as IJR reported.
The book detailed "parallel efforts by the South Carolina Republican and his conservative colleague from Utah, Sen. Mike Lee, to personally investigate the president's claims of voter fraud as the lawmakers prepared to certify Joe Biden's victory on Jan. 6," as The Washington Post noted.
Truth and Accuracy
We are committed to truth and accuracy in all of our journalism. Read our editorial standards.
Comment Down Below
Conversation