News
Trump to Provide Videotaped Deposition in Protest Lawsuit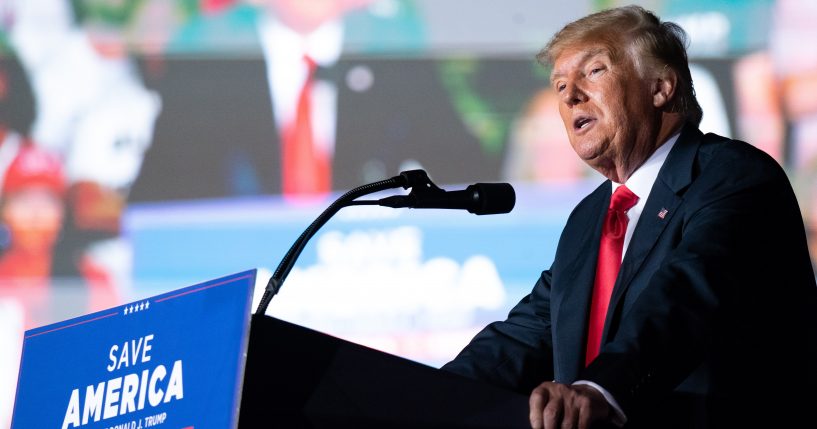 Former President Donald Trump is expected to sit down and record a deposition in response to a lawsuit brought by protesters claiming his security team assaulted them during a 2015 demonstration.
Fox News reports Trump will record his deposition in Trump Tower on Monday. The demonstration took place in the early days of Trump's presidential campaign.
CNN's Brianna Keilar reported on Monday the case is brought by "demonstrators who say then-candidate Trump's security guards roughed them up outside of Trump Tower."
Advertisement - story continues below
One of the network's reporters, Kara Scannell, pointed out "a group of men were demonstrating against…then-candidate Trump's anti-immigration rhetoric."
She continued, "It was then that they said they were assaulted by Trump's head of security."
Additionally, Scannell explained the deposition was put off because Trump was in office and it marks the first time in five years he will face questioning under oath.
Watch their comments below:
Advertisement - story continues below
Former Pres. Trump is scheduled to sit for video deposition today for a lawsuit filed in 2015 claiming his security roughed up demonstrators outside of Trump Tower.

It's one of 10 civil suits pending against Trump & this will be the first time he is deposed since leaving office. pic.twitter.com/0OQZbrlt1l

— The Recount (@therecount) October 18, 2021
Lawyer Benjamin Dictor told The Associated Press, "This is a case about Donald Trump's security guards assaulting peaceful demonstrators on a public sidewalk."
He continues, "We will be taking the trial testimony of Donald Trump, under oath, on Monday after years of the defendants' dilatory attempts to shield him from this examination. We look forward to presenting the video of Mr. Trump's testimony to a jury at his trial."
Trump spokesman Taylor Budowich told Fox News "most of the lawsuit has already been won," adding, "Further comment will be provided in due time." 
According to NBC News, at least 10 civil cases are pending against the former president. Trump reportedly argued he was immune from civil lawsuits as a sitting president.
Advertisement - story continues below
He has also been ordered to submit another deposition by Christmas in a lawsuit from a former "Apprentice" contestant, Summer Zervos, who accused Trump of sexual assault.
Truth and Accuracy
We are committed to truth and accuracy in all of our journalism. Read our editorial standards.
Comment Down Below
Conversation