Trump Tells Supporters the US Will Never 'Lock Down Again'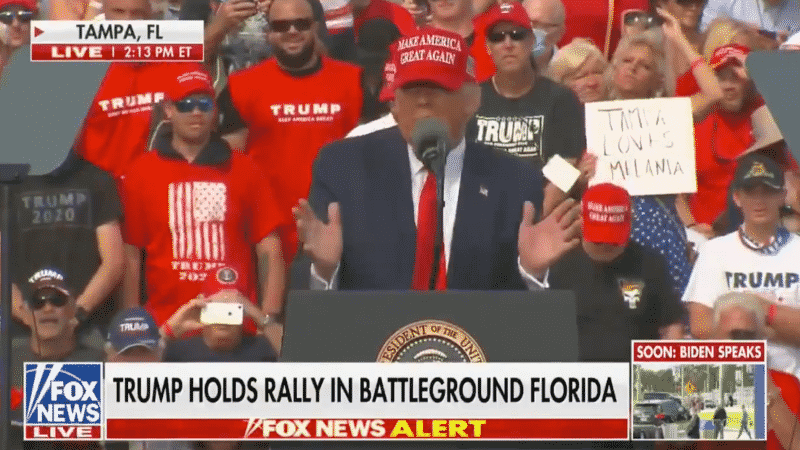 President Donald Trump is promising Americans he has no plans to shut down the nation again amid the COVID-19 pandemic.
"We were compared to Europe. Germany is doing so well. France is doing so well. Everyone's doing so well. No, they're not doing well, and you take a look at what's going on, and we want the best for them," Trump said during a rally in Florida Thursday.
He added:
"We're on their team. We want to work with them and everything else, but they're not doing well. They're spiking up big. They're shutting down, they're locking down. I disagree with that because we're never going to lock down again. We locked down, we understood the disease and now we're open for business and that's what it is."
Check out his comments below:
PRESIDENT TRUMP: "We're never going to lock down again." pic.twitter.com/CpJ6uBssW5

— Breaking911 (@Breaking911) October 29, 2020
The White House Office of Science and Technology Policy (OSTP) issued a press release listing "ending the Covid-19 pandemic" at the top of the list of accomplishments during Trump's first four years in office, as IJR previously reported.
The press release claimed Trump took "decisive actions to engage scientists and health professionals in academia, industry, and government to understand, treat, and defeat the disease."
Fox News's Sandra Smith pressed White House strategic communications director Alyssa Farah on whether Trump really believes the pandemic has come to an end, as IJR previously reported.
Farah explained the press release was "poorly worded" and "the intent was to say that it is our goal to end the virus."
On Wednesday, the United States reported at least 1,016 new coronavirus related deaths and 81,457 new cases.
There have been an average of 75,561 coronavirus cases per day over the past week, a 41% increase from the average two weeks earlier.
More than 8,932,900 Americans have been infected with the coronavirus as of Thursday morning and at least 227,600 have lost their lives.