News
Two of Trump's Allies Reportedly Considered Invoking the 25th Amendment To Remove Him From Office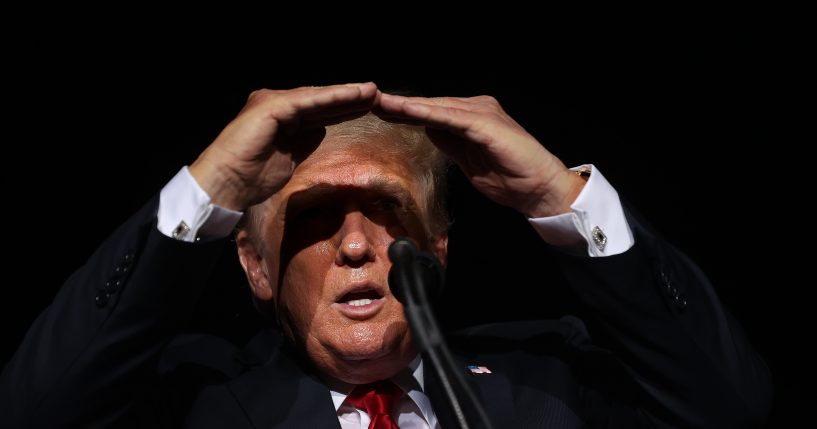 Two of former President Donald Trump's allies discussed invoking the 25th Amendment to remove him from office following the January 6 riot at the U.S. Capitol, according to a book.
During an appearance on MSNBC's "Morning Joe," ABC News chief Washington correspondent Jonathan Karl spoke out about the conversation he reported on in his book, "Betrayal: The Final Act of the Trump Show."
"I learned that Steven Mnuchin had a conversation with Mike Pompeo on the evening of January 6 and I learned that Mnuchin had several conversations about the 25th Amendment," Karl explained.
Advertisement - story continues below
He added, "And, further, that Mike Pompeo actually asked for a legal analysis of the 25th Amendment and how it would work."
Karl noted some cabinet members resigned the day after the Capitol riot, adding, "It quickly became apparent that the 25th amendment was not going to work."
He continued, "It would not be quick enough. It would be subject to legal challenges, et cetera."
Karl also mentioned how he reached out to both Mnuchin and Pompeo repeatedly "and they would not say anything to me on the record."
Advertisement - story continues below
Right before he went to press with his book, Karl reached out to Trump to bring these details up to him.
Watch the video below:
"Rock-solid sources" say Steve Mnuchin called Mike Pompeo about invoking the 25th Amendment on January 6th. Way too little, way too late. pic.twitter.com/jdn0X4d5IP

— Bryan Dawson (@BryanDawsonUSA) November 16, 2021
Within a couple of hours after the interview ended, Karl said he received a response from a spokesperson for Pompeo denying the report.
"It was a lie, they knew it was a lie," Karl said. "And Mnuchin hasn't denied anything, but Pompeo denied it simply because he got a call from Mar-a-Lago."
Advertisement - story continues below
Former Vice President Mike Pence said in January that he would not invoke the 25th Amendment to remove Trump following the riot.
"I do not believe that such a course of action is in the best interest of our Nation or consistent with our Constitution," Pence said in a letter to House Speaker Nancy Pelosi (D-Calif.).
Truth and Accuracy
We are committed to truth and accuracy in all of our journalism. Read our editorial standards.
Comment Down Below
Conversation