News
White House Issues Warning About Graham's Abortion Bill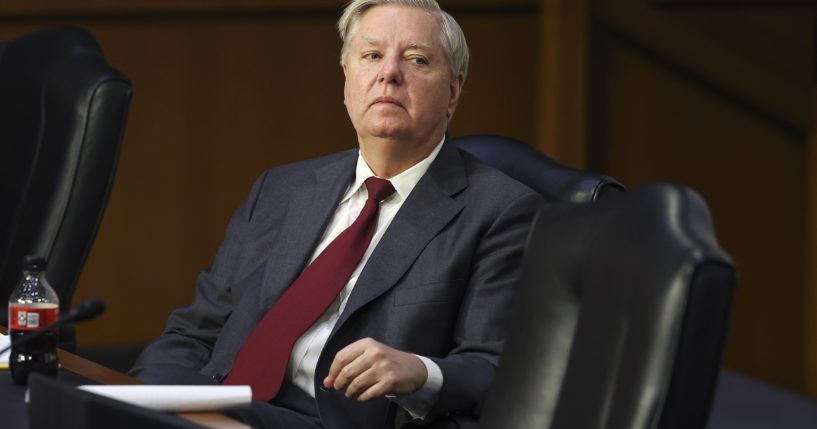 The White House has a warning about Sen. Lindsey Graham's (R-S.C.) abortion bill.
Jennifer Klein, director of the Gender Policy Council at the White House, issued the warning in a memo obtained by The Hill.
"If passed and enacted, this bill would create a nationwide health crisis, imperiling the health and lives of women in all 50 states," Klein wrote.
Advertisement - story continues below
She added, "It would transform the practice of medicine, opening the door to doctors being thrown in jail if they fulfill their duty of care to patients according to their best medical judgment."
The Hill noted Klein's memo pointed to a study from The New England Journal of Medicine that examined a law in Texas imposing an abortion ban after six weeks of pregnancy.
The ban went into effect last year.
The outlet explained the study "found that many providers do not provide information to patients about abortion in cases where the health of the mother or the fetus is in danger out of fear of legal and professional consequences."
Advertisement - story continues below
Klein argued providers "have sent home patients whose health is in jeopardy, unable to provide care under the law, and only provided appropriate treatment once they returned with signs of a life threatening condition like sepsis. Finally, the study notes that some providers are planning to leave Texas entirely."
Additionally, according to The Hill, Klein includes responses to Graham's bill from the American Medical Association and the American College of Obstetricians and Gynecologists.
The organizations reportedly claim these restrictions on abortion "threaten the very integrity of the medical profession by interfering with providers' duty of care, violating long established principles of medical ethics, and intruding upon honest, open communication between patients and providers."
Graham introduced the bill last week, as IJR reported.
His Protecting Pain-Capable Unborn Children from Late-Term Abortions Act prohibits abortions after 15 weeks of pregnancy nationwide.
Advertisement - story continues below
However, abortions can be performed if the mother's life is at risk or in the cases of rape and incest.
In case you missed it:
Sen. Lindsey Graham (R-SC), a longtime champion of states' rights, announces he is introducing federal legislation to ban abortion after 15 weeks — with exceptions only in the case of rape, incest, or life of the mother. pic.twitter.com/rAkR1qNLhy

— The Recount (@therecount) September 13, 2022
The White House is not the only one to express criticism of Graham's bill.
Advertisement - story continues below
NBC News reported some Republicans "attacked the bill as a distraction that divides the GOP and reminds voters that most of them see the party as too extreme on abortion."
Senate Minority Leader Mitch McConnell (R-Ky.) said, "Most of the members of my conference prefer that this be dealt with at the state level."
Truth and Accuracy
We are committed to truth and accuracy in all of our journalism. Read our editorial standards.
Comment Down Below
Conversation