News
Biden Pays Tribute to Powell: 'A Patriot of Unmatched Honor and Dignity'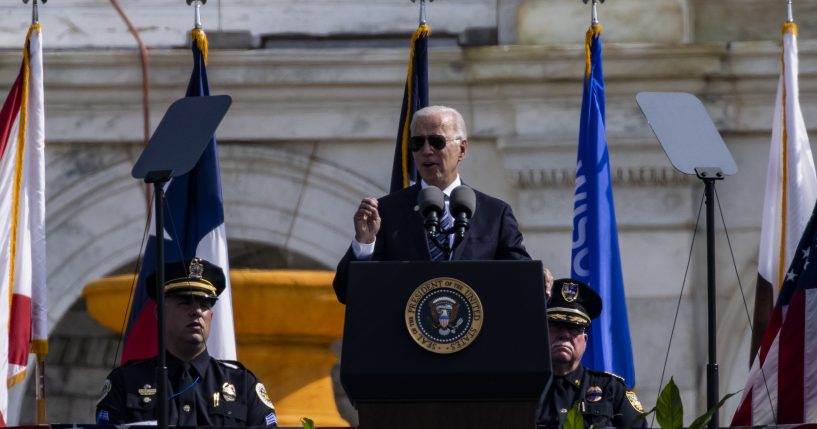 President Joe Biden honored former Secretary of State Colin Powell, remembering him as "one of our great Americans."
Biden issued a statement on Monday, paying tribute to Powell who died due to complications from COVID-19. He was 84.
"Jill and I are deeply saddened by the passing of our dear friend and patriot of unmatched honor and dignity, General Colin Powell," Biden said.
Advertisement - story continues below
He noted Powell "rose to the highest ranks of the United States military and to advise four presidents," adding, "He believed in the promise of America because he lived it. And he devoted much of his life to making that promise a reality for so many others."
The president reflected on his time working with Powell as a senator while he served as national security adviser, chairman of the Joint Chiefs of Staff, and secretary of state.
"Colin embodied the highest ideals of both warrior and diplomat. He was committed to our nation's strength and security above all. Having fought in wars, he understood better than anyone that military might alone was not enough to maintain our peace and prosperity," Biden said.
He added, "From his front-seat view of history, advising presidents and shaping our nation's policies, Colin led with his personal commitment to the democratic values that make our country strong. Time and again, he put country before self, before party, before all else — in uniform and out — and it earned him the universal respect of the American people."
Advertisement - story continues below
Read Biden's statement below:
JUST IN: Pres. Biden honors former Sec. of State Colin Powell.

"Colin Powell was a good man. He will be remembered as one of our great Americans." https://t.co/e8zklZpNnl pic.twitter.com/qWNVQR7lUA

— ABC News (@ABC) October 18, 2021
Biden acknowledged Powell "repeatedly broke racial barriers, blazing a trail for others to follow in Federal Government" service.
Powell was the first Black man to serve as secretary of state.
Concluding his statement, Biden called Powell a "good man" and said he will be "remembered as one of our great Americans."
Advertisement - story continues below
Additionally, Biden issued a proclamation ordering that the American flag be "flown at half-staff at the White House and upon all public buildings and grounds, at all military posts and naval stations, and on all naval vessels of the Federal Government in the District of Columbia and throughout the United States and its Territories and possessions until sunset on October 22, 2021."
The proclamation continues, "I also direct that the flag shall be flown at half-staff for the same length of time at all United States embassies, legations, consular offices, and other facilities abroad, including all military facilities and naval vessels and stations."
Powell's family issued a statement of their own announcing his death, as IJR reported.
"General Colin L. Powell, former U.S. Secretary of State and Chairman of the Joint Chiefs of Staff, passed away this morning due to complications from Covid 19. He was fully vaccinated," his family said.
Advertisement - story continues below
They added, "We want to thank the medical staff at Walter Reed National Medical Center for their caring treatment. We have lost a remarkable and loving husband, father, grandfather and a great American."
CNN reported, "A source familiar with the matter said Powell had multiple myeloma, a cancer of plasma cells that suppresses the body's immune response. Even if fully vaccinated against Covid-19, those who are immunocompromised are at greater risk from the virus."
Truth and Accuracy
We are committed to truth and accuracy in all of our journalism. Read our editorial standards.
Comment Down Below
Conversation