News
Biden Visits With Coast Guard Service Members on Thanksgiving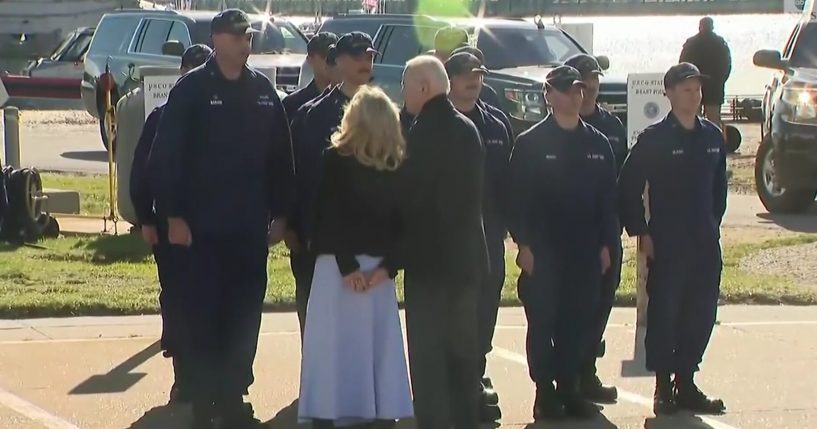 President Joe Biden and First Lady Jill Biden took time on Thanksgiving to visit Coast Guard service members.
On Thursday, Biden and the first lady traveled to the Coast Guard Brant Station on Nantucket to thank service members for their sacrifice and take photos with them.
When asked what he is thankful for, Biden said, "I'm not joking when I say I'm thankful for these guys."
Advertisement - story continues below
He added, "Thankful for them and everybody, I mean that from the bottom of my heart. I've been all over the world, I've watched these people. I've watched them in the South China Sea, I've watched them in Afghanistan and Iraq, watching them in South America, wherever they are people wonder what America is. They look and they see them, that's who they see. They don't see us here. They see them. And they make me proud."
Watch the video below:
"What am I thankful for? I'm not joking when I say I'm thankful for these guys."

Pres. Biden meets with Coast Guard after virtual meeting with service members on Thanksgiving. https://t.co/KHieue9YXV pic.twitter.com/ngGdODcOsx

— ABC News (@ABC) November 25, 2021
The president also expressed his appreciation for troops in his Thanksgiving proclamation.
Advertisement - story continues below
"As always, we are grateful for our troops serving far from home, keeping us safe and defending our values," Biden wrote.
He acknowledged the families "feeling the pain of an empty chair at the Thanksgiving table," adding, "You are not alone, and our Nation stands with you."
Earlier this week, Biden and his wife attended a "Friendsgiving" meal with military troops, as IJR reported.
"I want to thank not only you warriors, I want to thank your families because they stand and wait. And I know how hard it is to have someone who is not at the table on a holiday that are in harms' way that find themselves out of the country," Biden said while delivering remarks at Fort Bragg, North Carolina.
He called them "the most incredible group of women and men, warriors, that we've ever seen."
Advertisement - story continues below
Jill Biden also thanked the service members, saying, "That's why we came to have dinner with you."
Truth and Accuracy
We are committed to truth and accuracy in all of our journalism. Read our editorial standards.
Comment Down Below
Conversation