News
Hillary Clinton Will Reportedly Deliver a Speech at the New York Democratic Convention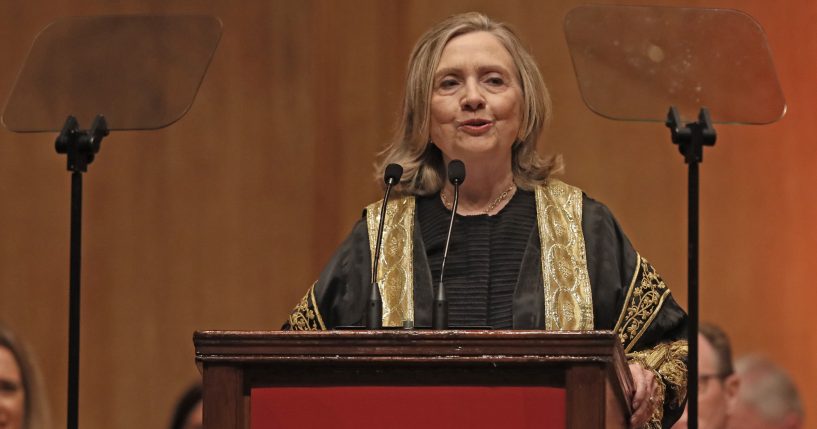 Former Secretary of State Hillary Clinton will reportedly speak at the New York State Democratic Party Convention.
CNBC reported Clinton is expected to deliver her speech to party leaders at the Sheraton Hotel in Times Square, citing people familiar with the matter.
"She's beloved by the mainstream members of the Democratic Party and her popularity is likely higher than that of President Biden. It's good for her because it keeps her relevant and her appearance is likely meant to galvanize the party and the audience," one of the individuals familiar with the matter said.
Advertisement - story continues below
Chief of staff for Jay Jacobs, chair of the New York State Democratic Party, Chris Melnyczu spoke to CNBC, saying they have "reached out to a number of people to speak."
Melnyczuk explained, "And, you know, we're waiting back on confirmation from a number of people. So there are a few things in the works."
When asked whether Clinton was invited to deliver a speech, Melnyczuk replied, "We've reached out to a number of folks, we're not going to say who we've reached out to."
However, he did not shoot down the report that Clinton was slated to speak.
Advertisement - story continues below
Last month, pollster Doug Schoen and former New York City Council president Andrew Stein penned an op-ed laying out the case for a potential 2024 bid for Clinton.
"Several circumstances—President Biden's low approval rating, doubts over his capacity to run for re-election at 82, Vice President Kamala Harris's unpopularity, and the absence of another strong Democrat to lead the ticket in 2024—have created a leadership vacuum in the party, which Mrs. Clinton viably could fill," they wrote.
The pair continued, "She is already in an advantageous position to become the 2024 Democratic nominee."
President Joe Biden's approval rating continues to sink, as IJR reported.
A new CNN poll released Thursday found 58% of Americans disapprove of Biden's job performance compared to only 41% that approve.
Advertisement - story continues below
According to the same poll, in December, 51% of Americans disapproved while 49% approved, a statistical tie.
Truth and Accuracy
We are committed to truth and accuracy in all of our journalism. Read our editorial standards.
Comment Down Below
Conversation