News
Laura Ingraham Opens Up About Whether She Plans to Vote for Trump if He Runs in 2024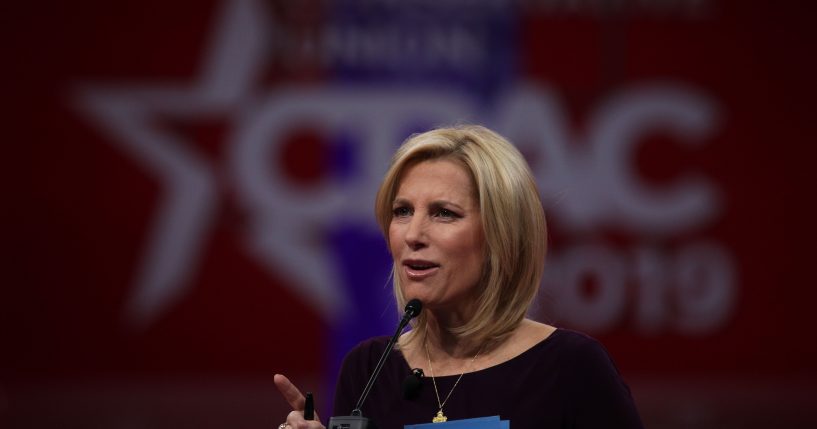 Fox News host Laura Ingraham shared whether she is thinking about voting for former President Donald Trump if he runs again in 2024.
Kelly Kendall penned an article in Northern Virginia Magazine titled, "Laura Ingraham Might Not Vote For Trump If He Runs–But She's Not Going To Stop Talking To His Base."
Kendall pointed out Ingraham was among the first commentators, even on her network "to champion Donald Trump in his 2016 presidential campaign, sticking by his side even as fellow conservative pundits roundly laughed him off in those early days."
Advertisement - story continues below
She noted, according to Ingraham, Trump "had tapped into a certain mood that much of the country was feeling, and shouldn't be counted out too soon: not then, and not now."
When asked if she would support Trump if he ran in 2024, Ingraham replied, "I'm not saying I'm there for him yet."
She added, "But I think whether he runs or not—I mean, his policies worked. Trump's blueprint for policy—a forward-looking, optimistic set of pro-America policies—that blueprint, without a doubt, is winning."
Last month, Rep. Liz Cheney (R-Wyo.) read text messages Fox News hosts, including Ingraham, sent to former White House Chief of Staff Mark Meadows during the January 6 riot at the U.S. Capitol, as IJR previously reported.
Advertisement - story continues below
"Multiple Fox News hosts knew the president needed to act immediately. They texted Mr. Meadows, and he has turned over those texts," Rep. Liz Cheney (R-Wyo.) said during a meeting of the House select committee investigating the riot.
Ingraham texted, "Mark, the president needs to tell people in the Capitol to go Home. This is hurting all of us. He is destroying his legacy."
She reacted, saying Cheney's move had "sent left-wing media hacks into spin and defame mode."
Ingraham continued, "Now, of course, the regime media was somehow trying to twist this message to try to tar me as a liar, hypocrite, who privately sounded the alarm on January 6, but publicly downplayed it."
Truth and Accuracy
We are committed to truth and accuracy in all of our journalism. Read our editorial standards.
Comment Down Below
Conversation