News
Manchin Believes Bill To Create Jan. 6 Commission Should Be Given 'Another Shot'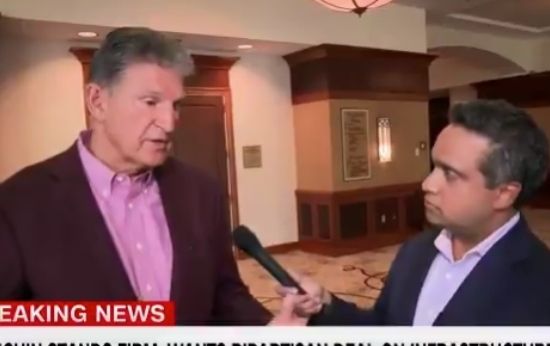 Sen. Joe Manchin (D-W.V.) believes the bill to establish an independent commission to investigate the U.S. Capitol riot on January 6 should be given "another shot."
Speaking with CNN's Manu Raju, the West Virginia senator shared he does not believe the bill to create a January 6 commission is "dead" and that he was "very disappointed" by Senate Minority Leader Mitch McConnell (R-Ky.).
Senate Republicans blocked the bill, passed by the House of Representatives, to create an independent commission. Six Republicans voted for the legislation.
Advertisement - story continues below
Manchin said he did not view the bill as "political," while McConnell called it "a purely political exercise."
Following the bill falling short of the 60 votes needed, Manchin declared, "Let's give it another shot."
Watch Manchin's comments below:
Asked Manchin he really thinks McConnell wants to work him/Dems after blocking Jan. 6 commission: "I'm not saying that's dead either," he said of the commission.

"Let's give it another shot," he said after it fell short of 60 votes needed. pic.twitter.com/fUUHy1bKQj

— Manu Raju (@mkraju) June 3, 2021
Advertisement - story continues below
The senator tore into the Republicans who voted against the bill, saying in a previous statement, "Choosing to put politics and political elections above the health of our democracy is unconscionable. And the betrayal of the oath we each take is something they will have to live with."
Additionally, Manchin told Raju that he would "never" support eliminating the 60-vote threshold.
"Let me just tell you one thing we're going to make the Senate work the way it was intended to work," the senator said.
But he warned Ds who want to change filibuster rules to create a carveout so voting overhaul legislation can advance with 51 votes. (He's working with Murkowksi on a bill.) "What comes around goes around," he said

— Manu Raju (@mkraju) June 4, 2021
House Speaker Nancy Pelosi (D-Calif.) laid out four possible alternatives to a bipartisan commission during a House Democratic Caucus call on Tuesday. These include "allowing the Senate to vote again on the House-passed bill to create an independent commission, creating a House select committee, allowing multiple committees to continue their ongoing investigations or empowering one House committee, such as Homeland Security, to take the lead on investigating Jan. 6," The Hill reports.
Advertisement - story continues below
White House Press Secretary Jen Psaki said on Thursday that President Joe Biden "believes [the events of January 6] deserve a full, and independent, investigation to determine what transpired and ensure it can never happen again." However, he does not support appointing a presidential commission to do so, as IJR reported on.
Truth and Accuracy
We are committed to truth and accuracy in all of our journalism. Read our editorial standards.
Conversation