News
Mark Milley Tells Trump After Apology for 'Photo Op' Role, 'I Don't Expect You To Understand': Book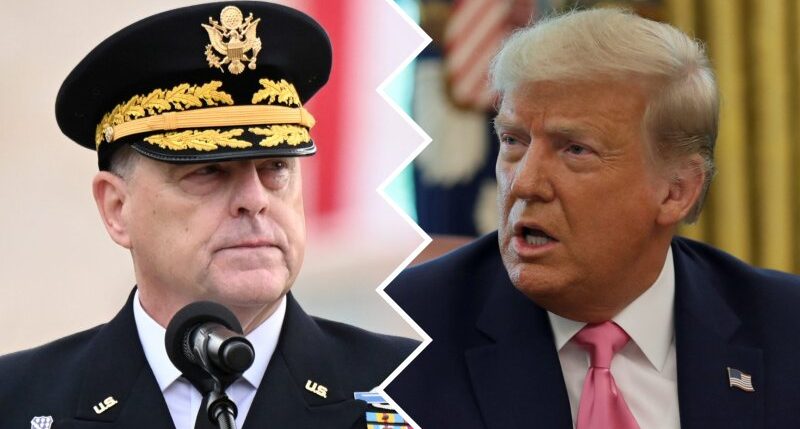 Chairman of the Joint Chiefs of Staff Gen. Mark Milley reportedly told former President Donald Trump that he does not "expect" the now-former president "to understand" during a "fiery" confrontation.
A new book details when Trump and Milley's relationship began to fall apart, according to Axios.
The book, "Frankly, We Did Win This Election: The Inside Story of How Trump Lost," is written by The Wall Street Journal's Michael Bender.
Advertisement - story continues below
When Trump had a "photo op" at St. John's Episcopal Church in Washington, D.C., Milley attended. The chairman of the Joint Chiefs of Staff then apologized for appearing at the "photo op."
"I should not have been there," Milley previously said. "My presence in that moment and in that environment created a perception of the military involved in domestic politics."
After his apology and while in the Oval Office, Trump and Milley had a "fiery" confrontation, as Axios put it.
Per the book, Trump asked, "Why did you apologize? That's weak."
Advertisement - story continues below
Milley responded, "Not where I come from. It had nothing to do with you. It had to do with me and the uniform and the apolitical tradition of the United States military."
"I don't understand that," Trump said. "It sounds like you're ashamed of your president."
Milley said, "I don't expect you to understand."
According to Bender, former White House chief of staff John Kelly warned Milley in December of 2018 against becoming the chairman of the Joint Chiefs of Staff.
"I would get as far away from this f***ing place as I f***ing could," Kelly reportedly said.
Advertisement - story continues below
In another book, "I Alone Can Fix It," by The Washington Post reporters Carol Leonnig and Philip Rucker, Milley and other top military generals feared Trump and his allies may attempt a coup after the 2020 presidential election.
Trump responded to the book's claim, saying, "The writings within these third-rate books are Fake News, and 'General' Milley (who [former Defense Secretary James] Mattis wanted to send to Europe in order to get rid of him), if he said what was reported, perhaps should be impeached, or court-martialed and tried."
He added, "So, there was no talk of a coup, there was no coup, it all never happened, and it's just a waste of words by fake writers and a General who didn't have a clue."
Truth and Accuracy
We are committed to truth and accuracy in all of our journalism. Read our editorial standards.
Comment Down Below
Conversation