News
Pompeo: 'No Administration' Was Tougher on Russia Than the Trump Admin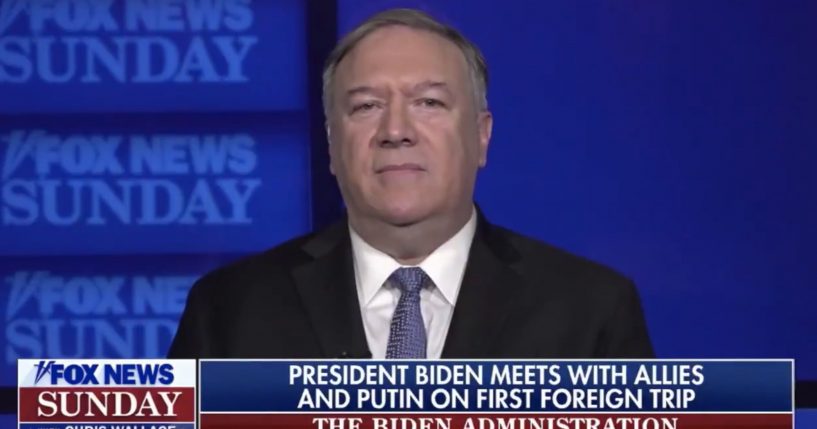 Former Secretary of State Mike Pompeo is defending the Trump administration's approach to the nation's relationship with Russia.
While speaking with Fox News's Chris Wallace, Pompeo said, "There was no administration that was tougher on Russia. We worked diligently to support Ukraine with defensive weapon systems. We built up the United States military."
He claimed the Trump administration "really put pressure" on Russian President Vladimir Putin and added, "We need to continue to defend the United States against the threats that Vladimir Putin may pose."
Advertisement - story continues below
Wallace pushed back, "Under President Trump, the administration didn't stop Russia from completing, and they continued during the Trump administration to build the Nord Stream pipeline. By the end of the administration, it was 90% completed."
He added, "And President Trump never condemned Russia for the poisoning of Alexei Navalny or his arrest. And both of those happened on his watch."
Watch the exchange below:
Mike Pompeo tells Chris Wallace Trump just needed four more years to get tough on Russia, and defends the Trump administration's human rights record (Jamal Khashoggi is unavailable for comment) pic.twitter.com/KnhprtPobh

— Aaron Rupar (@atrupar) June 13, 2021
Advertisement - story continues below
Navalny is an anti-corruption campaigner and a leading force of opposition to Putin.
Pompeo explained, "Well, Chris, you said it yourself, they didn't complete the pipeline. We'd imposed real sanctions on the ships that were doing the construction, the insurers that were underwriting it. We made clear that that pipeline was not going to be completed. It would not have been completed had we had four more years, I'm very, very confident of that."
He argued the Trump administration was also "tough" in speaking out against human rights abuses, "I'm proud of the work we did there. It was good work, it was serious work, and it made a difference."
Last week, the former president released a statement speaking highly of his meeting with Putin in Helsinki, Finland, in 2018 and took a swipe at President Joe Biden ahead of his meeting with Putin.
"Good luck to Biden in dealing with President Putin – don't fall asleep during the meeting, and please give him my warmest regards," Trump said.
Advertisement - story continues below
Former US president says he still trusts Russia more than the government he once led. pic.twitter.com/5Wkwj8KOwZ

— Andrew Feinberg (@AndrewFeinberg) June 10, 2021
NBC News' Keir Simmons asked Putin how Biden is different from Trump, as IJR reported.
"Even now I believe that former U.S. president Mr. Trump is an extraordinary individual, talented individual, otherwise he would not have become U.S. president. He's a colorful individual," Putin said.
He added, "You may like him or not. But he didn't come from the U.S. establishment, he had not been part of big time politics before, and some like it, some don't like it, but that is a fact."
Advertisement - story continues below
Putin called Biden "radically different" from Trump, saying Biden is "the career man."
Biden will meet with Putin on Wednesday.
Truth and Accuracy
We are committed to truth and accuracy in all of our journalism. Read our editorial standards.
Comment Down Below
Conversation