News
Biden Faced With Protesters Upon Arrival in California To Campaign for Newsom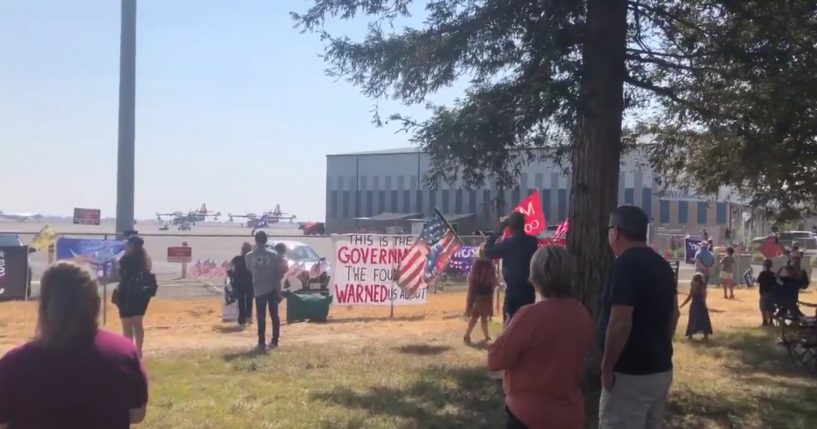 Protesters gathered outside of an airport in California upon President Joe Biden's arrival for an event to support Gov. Gavin Newsom (D).
According to The Sacramento Bee, roughly 30 protesters gathered outside of Mather Airport Monday hanging Trump flags and "Recall Newsom" signs on the fences.
One protester, Linda Martinez-Hanna, shouted, "Get out of our president's plane." She went on to call Biden a "fake president."
Advertisement - story continues below
Others reportedly voiced their frustration with Biden over his handling of the Afghanistan withdrawal. One sign read, "Biden lied, 13 died." Thirteen U.S. service members lost their lives in a suicide bombing outside of the Kabul airport in Afghanistan.
There is a relatively small group of protesters and spectators outside Mather Airport for President Joe Biden's arrival. Here is the reaction as Air Force 1 lands.@sacbee_news pic.twitter.com/iLRnJzYihS

— Mike McGough (@Mike_McGough) September 13, 2021
The president was also met with boos from a crowd of protesters standing along his route to Long Beach City College.
BREAKING: What appears to be Joe Biden's motorcade BOOED massively by Patriots at Long Beach City College @RealAmVoice pic.twitter.com/04y06RlcJA

— Drew Hernandez (@DrewHLive) September 14, 2021
Advertisement - story continues below
While delivering remarks later Monday, Biden told the audience they "either keep Gavin Newsom as your governor, or you'll get Donald Trump."
He added, "It's not a joke. [A] Republican governor blocking progress on COVID-19, who's also anti-women, anti-worker, climate denier, who doesn't believe in choice. The choice should be absolutely clear, Gavin Newsom. You have a governor who has the courage to lead."
Biden also argued Newsom is "a governor who shares the state's values. In Gavin, you have a governor to make sure Donald Trump's dark, destructive, divisive politics never finds a place in California."
During a Fox News interview, Trump took a swipe at the Biden administration for the Afghanistan debacle, calling it the "greatest embarrassment in the history of our country."
He continued, "When you look at Afghanistan and what happened, and the death for no reason, just for no reason."
Advertisement - story continues below
The former president also spoke out about his plans for 2024, suggesting he might not have a "choice" but to run for president again.
"I don't think we're going to have a choice. It is disgraceful," Trumps said.  
Truth and Accuracy
We are committed to truth and accuracy in all of our journalism. Read our editorial standards.
Comment Down Below
Conversation