News
'Squad' Member Calls on House Leadership to Remove Boebert From Her Committee Assignments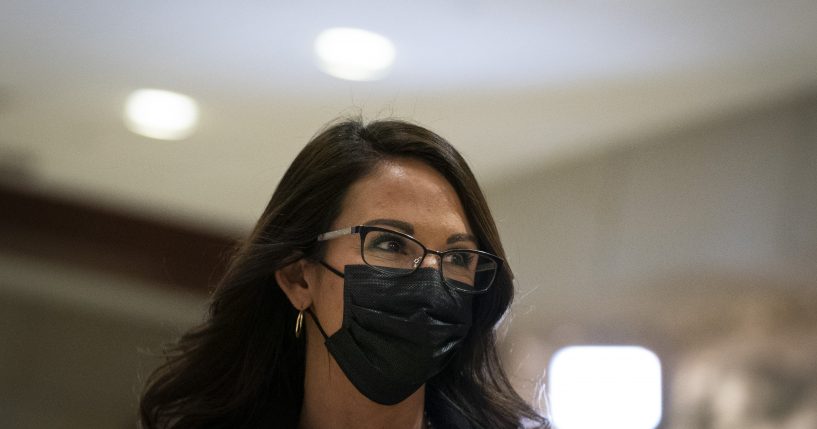 Rep. Jamaal Bowman (D-N.Y.) is urging House leadership to hold Rep. Lauren Boebert (R-Colo.) accountable for her controversial comments about Rep. Ilhan Omar (D-Minn.).
In a statement released on Tuesday, Bowman, a member of the "Squad," suggested the "cultural climate under Trump laid the foundation for and created a dangerous precedent that has emboldened members of the Trump Party to launch blatantly Islamophobic and xenophobic attacks" on Omar and others.
He added, "The fact is that Congresswoman Omar is a Black, immigrant and visibly Muslim woman with power—and this is too much to handle for people who refuse to live in a society that celebrates diversity and abhors white supremacy. The question that we as leaders are called to answer is whether we will tolerate this kind of vile behavior and learn from history in order to protect our future."
Advertisement - story continues below
Bowman vowed to "work to root out Islamophobia and discrimination of any kind."
He continued, "I'm urging House leadership to hold Lauren Boebert accountable by removing her from her committee assignments, advancing a resolution of condemnation, and taking all other appropriate measures to ensure our message that Islamophobia, anti-Blackness, and xenophobia will not stand is loud and clear."
NEW: Rep. Jamaal Bowman calls for House leadership to strip Rep. Lauren Boebert's committee assignments, as well as "taking all other appropriate measures."

Full statement: pic.twitter.com/gXvVOlC4jl

— Andrew Solender (@AndrewSolender) December 1, 2021
Bowman's statement came just days after a video surfaced showing Boebert telling an alleged story of an encounter she had with Omar, as IJR reported.
Advertisement - story continues below
Earlier this week, both Boebert and Omar shared details of a phone conversation they had.
"She kept asking for a public apology so I told Ilhan Omar that she should make a public apology to the American people for her anti-American, anti-Semitic, anti-police rhetoric. She continued to press and I continued to press back. And then, Representative Omar hung up on me," Boebert said in an Instagram video.
Should Boebert be removed from her committee assignments?
Omar explained in a statement, "Instead of apologizing for her Islamophobic comments and fabricated lies, Rep. Boebert refused to publicly acknowledge her hurtful and dangerous comments."
She added, "She instead doubled down on her rhetoric and I decided to end the unproductive call."
House Majority Leader Steny Hoyer (D-Md.) said House Democrats are considering taking action against the Republican, as IJR reported.
Truth and Accuracy
We are committed to truth and accuracy in all of our journalism. Read our editorial standards.
Comment Down Below
Conversation