News
Trump Would 'Certainly Consider' DeSantis As Running Mate if He Runs in 2024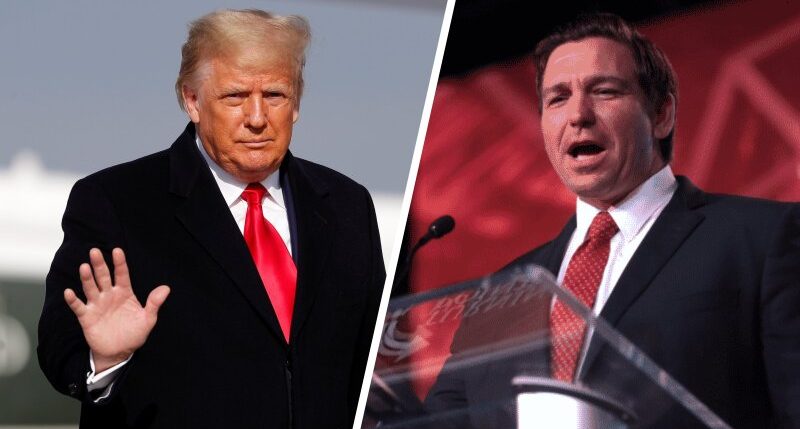 Former President Donald Trump is not ruling out Florida Gov. Ron DeSantis (R) as a potential running mate if he chooses to run again in 2024.
When asked by Fox Business host Stuart Varney if he would consider DeSantis, Trump replied, "Sure I would. But, you know, there are numerous people that are great. I would certainly consider Ron. I was at the beginning of Ron."
He continued, "I was the first one to endorse him when he came out as a congressman that a lot of people didn't know and my endorsement helped him tremendously and I know him very well. He's a great guy."
Advertisement - story continues below
Trump reiterated, "We have other great people, I mean you look at some of the people, the Republican people, that have done a great job with states."
Check out the video below:
WATCH: Former President Donald Trump tells @Varneyco that he would "certainly consider" Florida Gov. Ron DeSantis as his running mate in 2024. pic.twitter.com/HW7q2QjZ1n

— Mediaite (@Mediaite) June 7, 2021
During a Fox News interview on Saturday, Trump discussed whether he would ask former Vice President Mike Pence to be his running mate if he runs again, as IJR reported.
Advertisement - story continues below
"Mike and I have a good relationship, we continue to have a good [relationship], but it's too early to be discussing running mates certainly," Trump said.
Trump's relationship with Pence seemed to shift following the January 6 insurrection at the U.S. Capitol.
During his speech on Thursday at the Hillsborough County Republican Committee's Lincoln-Reagan Dinner in New Hampshire, Pence said he and the former president may never see "eye to eye" on the January 6 events, as IJR reported.
"As I said that day, January 6 was a dark day in the history of the United States Capitol," Pence said.
He added, "You know, President Trump and I have spoken many times since we left office. And I don't know if we'll ever see eye to eye on that day. But I will always be proud of what we accomplished for the American people over the last four years."
Advertisement - story continues below
Trump released a statement in May blasting Pence and Senate Minority Leader Mitch McConnell (R-Ky.) over the 2020 election, as IJR reported.
"Had Mike Pence referred the information on six states (only need two) back to State Legislatures, and had gutless and clueless MINORITY Leader Mitch McConnell (he blew two seats in Georgia that should have never been lost) fought to expose all of the corruption that was presented at the time, with more found since, we would have had a far different Presidential result, and our Country would not be turning into a socialist nightmare!" Trump said.
Truth and Accuracy
We are committed to truth and accuracy in all of our journalism. Read our editorial standards.
Conversation